Exclusive
Lindsay Lohan's Ex, 'Lesbian Don Juan,' Courtenay Semel Opens Up About Life After Addiction & Future Plans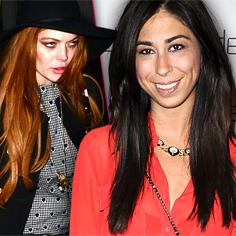 Courtenay Semel knows all too well what it's like to live in the Hollywood fast lane.
After eight stints in rehab, the socialite is proving she's a lot more than just Lindsay Lohan's ex-girlfriend and party girl heiress, as she talks to RadarOnline.com exclusively about life after addiction, losing the love of her life and her plans to open a treatment center.
"When you're young you're trying to find yourself and sometimes you trying to reach out to escape. For some people that means drugs, for some that means alcohol or eating disorders or cutting and self harm," Semel told Radar. "Whatever you gravitate toward, you're not loving yourself and you're not loving your life.
Article continues below advertisement
"I had all of the above. I was self-harming, I was depressed. And the more I went out in Hollywood, that was my addiction."
In 2008, Semel was a staple on the L.A. club scene alongside fellow rich gal pals Paris and Nicky Hilton. And with red carpet appearances came a string of sensational headlines for the girl who once called herself "the Don Juan of the lesbian world" -- from setting her girlfriend's hair on fire and assaulting a bouncer, to dating Tila Tequila and reportedly hooking up with Lohan.
But since taking four voluntary years out of the spotlight, the 34-year-old is taking a far less public -- and more productive — approach to life after getting her master's degree in clinical psychology.
"I'm a therapist now," said Semel, who has plans to open a private practice and is partnering with others to fund a treatment center in L.A. where she'll head up the young adult program. This is all based on having been to eight treatment centers myself and getting every diagnosis under the sun.
Article continues below advertisement
"At one point I was diagnosed an alcoholic, had an eating disorder and was diagnosed a drug addict."
In 2009, after financially getting cut off from her family (her father is former Yahoo CEO Terry Semel) and spiraling out of control, Semel entered rehab for exhaustion. And a year later, her ex girlfriend and hard-partying Johnson & Johnson heiress Casey Johnson, died in her sleep from complications of diabetes at age 30.
"Losing Casey, I knew that I could move down that road and not live anymore or do something different," she said. "One day I was like I'm done and that's it.
"No matter what I was doing or using, I wasn't happy with my life," she said. "I was dying to escape my life and I was escaping with drugs, alcohol and after hours. All of it kind of went away because so much was exciting. All of the outside noise makes it worse.
Article continues below advertisement
"I decided to come out on the other side — losing the love of my life, I wanted to give back. I wanted to put together a program that actually might work."
Today, she has a much more positive outlook on life.
"My motto is I'm dying for people to be addicted to living," said Semel.
"I think there needs to be a different message. I get very offended when I hear things about young people in Hollywood or those who aren't famous," she added. "Like Amanda Bynes. There are girls like her who are struggling and everyone goes through it at that age and it's a lot harder when you're in the spotlight."
She's also reconciled with LiLo, who completed her sixth trip to rehab last July.
So will Semel need to save a bed for her when she opens the doors to her treatment center in September?
Despite her trash-talking past, that's one relationship Semel wants to keep sacred.
"I love her … she's my best friend," she said, refusing to talk about Lohan's OWN docudrama, Lindsay. "That's like my sister. I want her to win."