Father's Rejection Fueled Descent Of Johnson & Johnson Heiress Casey Johnson, New Book Claims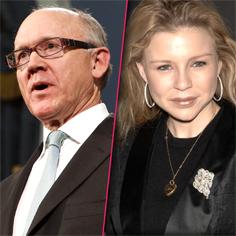 The late Casey Johnson's descent from a storybook life, to lonely death around the holidays, is closely chronicled in a new book Crazy Rich: Power, Scandal, and Tragedy Inside the Johnson & Johnson Dynasty, and we've got new details from the book.
Among the startling claims, according to the NY Post, is that after a number of personal problems (involving drugs and mental illness) Casey was summarily rejected by her magnate father Woody, a pain that lingered until her death in 2010.
Article continues below advertisement
A family source told the author that "Woody overindulged Casey," as he "was raised with the idea that money can do everything, and that's what worked for him."
But the warmth didn't always carry over, as her mother Sale told biographer Jerry Oppenheimer, "Woody was not a warm, cuddly kind of person. With Casey, Woody was so uncomfortable because he didn't know what to do with her, or how to react to her situation because she was not easy to deal with.
"She was very complicated, and it was overwhelming in a large part for Woody despite his best efforts," Sale said. "All Casey wanted was her father's approval. She lived for that, and she was broken down because she didn't get it."
Sale said that toward the end of Casey's 30 years — a period of tumult that included high-profile relationships with tabloid tarts like Tila Tequila and Courtenay Semel — Casey reached out to Woody, but he "chose not to respond."
"Casey sent love letters to her father -- she called and left voice mails," Sale said.
After his daughter's January 2010 death, Woody told the press the wayward beauty had been "trying to find her own identity.
"She was rebellious. She made some judgment errors. Been there, done that. She had to take responsibility. And it couldn't be me pushing. Or her mother. Or her doctor. She would ultimately have to do it herself."