Exclusive
EXCLUSIVE: Casey Johnson Trashed Her House, Didn't Pay Rent; Landlord Suing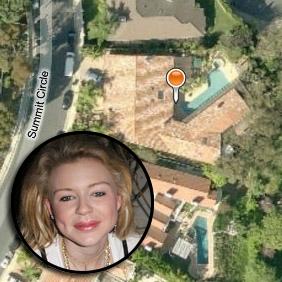 Seven months after Casey Johnson passed away, her former landlord has filed a creditor's claim against the Johnson & Johnson heiress.
RadarOnline.com has exclusively obtained the court papers filed by Jose Nazar on July 7, 2010 against Johnson's estate in the amount of $234,228 for damage to the house she was leasing and missed rent payments.
EXCLUSIVE DOCUMENTS: See The Lawsuit Filed Against Casey Johnson
MORE ON:
Celebrity Justice
Article continues below advertisement
According to the documents, Johnson began renting the luxurious 90210 home in 2008 for $16,000 per month but allegedly breached the lease with unpaid rent in upwards of $94,933.24 – not including the late charged incurred.
Damage to the home was listed as extensive, totaling over $100,000 in repairs needed:
Total Damage to Property/Cost of Tenant Failure of Maintenance and Repair -- $102,760
Even after Johnson was unable to make her rental payments, Nazar alleges in court papers that he lent the troubled starlet $12,050 to "assist her in moving," which he says was also never reimbursed.
After including missed rent, damages to the property, money loaned and legal fees Nazar is seeking a total of $234,228 from Johnson's estate – which will presumably be handled by her father, New York Jets owner Robert "Woody" Johnson IV.
On January 4, 2010 Johnson's body was found in the bedroom of a West Hollywood home she was staying in and the Los Angeles Coroner's office determined she had passed away from diabetic ketoacidosis.
Related Stories:
Casey Johnson's Autopsy Report Released
The Dearly Departed: Celebs We Lost in 2010
EXCLUSIVE: Courtenay Semel Not Dating Men OR Women
| | | | | | | | | | | | | | | | | | | | | | | | |
| --- | --- | --- | --- | --- | --- | --- | --- | --- | --- | --- | --- | --- | --- | --- | --- | --- | --- | --- | --- | --- | --- | --- | --- |
| 1. Pool, spa and Equipment Restoration and Maintenance - | $10,045 | 2. Garden Restoration and Maintenance - | $22,635.59 | 3. Broken Birdbath Replacement - | $350 | 4. Painting, Restoration of Walls, Cabinets and Woodwork - | $9,776 | 5. Interior Flooring Restoration - | $9,693 | 6. Door Repairs - | $1,720 | 7. Electrical Repair and Restoration - | $7,876 | 8. Repairs to Alarm - | $305 | 9. Alarm Monthly Maintenance - | $360 | 10. General Repairs (Payments to M Pineda, etc - | $4,051.16 | 11. Cleaning for which Decedent was Responsible upon vacating - | $1,059.50 | 12. Estimated Design Restoration Supervision Costs caused by damage to property - | $10,276.14 |