Exclusive
Lindsay Lohan Brings Ex-Girlfriend To Pal's Birthday Party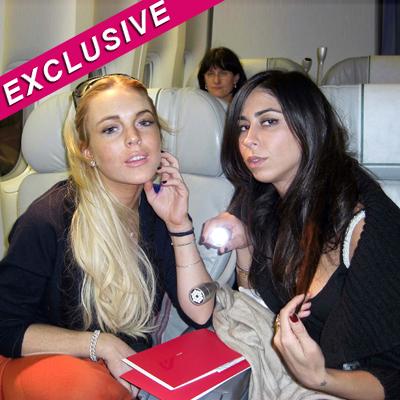 RadarOnline.com Assistant Managing Editor
Lindsay Lohan brought ex-girlfriend Courtenay Semel to a friend's birthday party last weekend, RadarOnline.com is exclusively reporting.
The Mean Girls star arrived with Semel, daughter of the former CEO of Yahoo, to Allison Melnick's birthday party in West Hollywood on Friday night.
"There was an audbible gasp in the room when Lindsay walked in with Courtenay because they have had such a crazy history together, but it seems they are in a much better place now. Lindsay and Courtenay are friends and didn't appear to be romantic," a party guest tells RadarOnline.com exclusively.
Article continues below advertisement
Lohan reportedly dated Semel before she hooked up with deejay Samantha Ronson.
Lohan made a beeline for Allison, who was talking with guests Paris and Nicky Hilton. "Lindsay wished Allison a happy birthday and hugged Paris and Nicky. All the girls presented Allison with a birthday cake. The girls have been friends for a very long time and have put everything in the past behind them. They aren't in high school anymore, and they just don't have time for the drama," the source revealed.
"Paris was overheard complimenting Lindsay on her new dark hair color and is excited to see her play Elizabeth Taylor. There were oodles of hot male models at the party. It was a great party, and everyone had an amazing time!"
Fun fact, Elizabeth Taylor was Paris & Nicky Hilton's great aunt as the screen icon was married to their grandfather, Barron's brother Nicky Hilton.
RELATED STORIES:
'I Did Drugs With Lindsay Lohan And Naomi Campbell,' Says Reporter