Andy Cohen Blasts Kenya Moore and Porsha Williams' RHOA Reunion Brawl As 'Gross & Totally Inappropriate'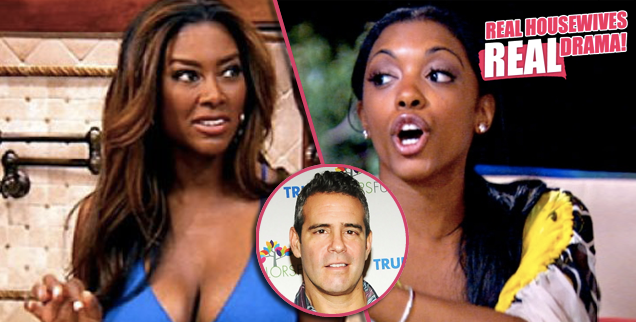 Bravo head honcho Andy Cohen has seen his share of Real Housewives catfights, but nothing prepared him for Kenya Moore and Porsha Williams' brawl during TheReal Housewives of Atlanta reunion.
As Radar first reported: Williams lost her temper and "beat the sh*t" out of Moore during the reunion taping. Now, Cohen has come forward, confirming the blowup and explaining what really happened.
"There was an altercation that took place between Kenya Moore and Porsha Williams," he said on the latest episode of Ask Andy. 
Article continues below advertisement
Faked Scenes, Lies & Payoffs – The Ultimate Guide To Reality TV Shows
"They stood up...I think I stood up pretty quickly. It was such a flash, and it started to escalate," he continued. "I was trying to prevent it, and a couple other people jumped in too. To me, it came out of nowhere."
Although the fight will likely be ratings gold, Cohen wasn't amused.
"The other women felt Kenya provoked her a bit...I was so shocked and surprised," he said. "I don't want that to happen. I think it's gross. And I think it just totally inappropriate. It's wrong. It's not entertaining. It's just bad."
An insider told Radar that security guards immediately tried to break up the fight.
"Kenya brought sex toys to the reunion taping to taunt Porsha about Kordell's sexuality and she couldn't take it anymore," the eyewitness told Radar.
"Porsha beat the sh*t out of her! Porsha was sick of her implying that she was Kordell's beard and those toys were the last straw.  Porsha is a skinny thing but she was whopping her butt!"
Are you Team Kenya or Team Porsha? Tell us below!