Bravo To Blame? NeNe Leakes Suggests 'RHOA' Producers Instigated Kenya Moore & Porsha Williams Brawl — PLUS Were They Drunk When They 'Got Physical'?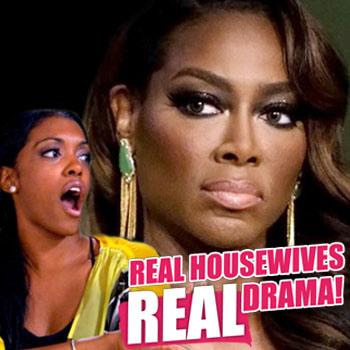 In the aftermath of Kenya Moore and Porsha Williams' brawl at The Real Housewives of Atlanta reunion taping earlier this month, cast members have stayed relatively quiet about whose team they're on. But now, RadarOnline.com has learned, NeNe Leakes has finally broken her silence, dishing new details about the explosive catfight – and laying part of the blame on her Bravo bosses!
"There was a physical confrontation that happened at the reunion," Leakes said during an appearance on VH1's Big Morning Buzz on April 11, confirming RadarOnline.com's exclusive report.
Article continues below advertisement
"You know, listen, I don't condone violence," she added. "I do condone a little reading ... and we can get in each other's face and talk a little trash, but you need to keep your hands to yourself."
Faked Scenes, Lies & Payoffs – The Ultimate Guide To Reality TV Shows
However, Moore and Williams "actually touched each other," according to Leakes, who added, "It got physical."
The housewife and current Dancing with the Stars contestant denied that alcohol fueled the reunion drama, but suggested RHOA producers may have instigated the brawl.
"No, we don't have any drinks at our reunion shows," she insisted.
But as for the producers, Leakes said, "I mean, they welcome a good argument. That's always good television … but to touch each other, that's really crossing the line. So they did get into a physical altercation. I feel like one was provoked and the other one knocked her out."
Leakes declined to comment on who did what, but as RadarOnline.com first revealed, Williams lost her temper and "beat the sh*t" out of Moore during the reunion taping, according to a source.
Article continues below advertisement
"Kenya brought sex toys to the reunion taping to taunt Porsha about Kordell's sexuality and she couldn't take it anymore," an eyewitness told RadarOnline.com at the time."Porsha beat the sh*t out of her! ... Porsha was sick of her implying that she was Kordell's beard and those toys were the last straw. Porsha is a skinny thing but she was whopping her butt!" The source said the security guards immediately tried to break up the fight.
Whose side are you on? Let us know in the comments!