Exclusive
Teresa And Joe Giudice's Nemesis Kim Granatell Slams Guilty Couple: 'Hopefully They Still Get Time Because They Deserve It!'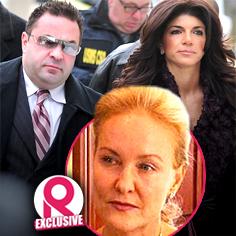 Teresa Giudice and her husband Joe pleaded guilty to multiple counts of fraud and their old nemesis Kim Granatell is slamming the couple exclusively to RadarOnline.com, saying that they are hopefully going to be sentenced to time behind bars because "they deserve it!"
While many speculate that Joe will be sent away, it is also thought that Teresa might not have to spend time behind bars.
"They had to take a plea deal because they had so many counts against them and what's the chances of them both going away for a long time, so they were very smart in doing that," The Real Housewives of New Jersey star's ex-friend told RadarOnline.com. "But hopefully they are still going to get time because they deserve it!"
Article continues below advertisement
GALLERY: The Giudice's 30 Most Shocking Quotes About Fraud & Finances
If Joe gets sent away and Teresa gets to remain on the outside, Granatell suggested that the reality starlet would be sent into a shocking reality.
"Maybe she will start to live the straight and narrow," she said. "Maybe she will start to live the way everybody else lives, the way people work hard to get what they get and not to have to stand and con to be something you're not."
According to Granatell, Teresa needs to repent.
"She should spend her time doing restitution and volunteering," she said. "All of this we're remorseful? We're remorseful because we're going down, that's why. What about the other people they've scammed all along? They didn't pay this guy and that guy and put people out of business. What about that?"
Granatell also thinks Teresa deserves to deal with the pain of being separated from her husband.
Article continues below advertisement
"I have a feeling that she had to know what he was doing," she said. "As a husband and wife team, you can't be that dumb."
Teresa won't be able to function without Joe "because I have a feeling that he's controlling and I have a feeling that she just went along with it," Granatell said. "She wanted that lifestyle but she didn't want to work hard for it. They did it together. They conned and spent. You want to play, you better pay."
"That's her rock," Granatell continued. "They're a team in terms of what's been going on. Now what? How do we function? How do we start over? How do we start over in terms of you can't do this anymore? You have to now function in society the way most people would."
Teresa and Joe's cold, hard reality is destroying Teresa.
"You don't think it's emotionally destroying her? Look at her," Granatell said. "Take a good look at her. That alone tells you that she's really been emotional, like, 'Look at my life. Look at what I did.'"
And unfortunately, Granatell doesn't think that Teresa has a chance of ever finding another man who will want her after this hell.
"Who's going to want her?" she said. "She better stay with him. That's a lot of baggage to take."