The Secret Recording Teresa Giudice's Legal Advisor Would Not Want Released: Crisis Consultant Claimed 'RHONJ' Stars Have 'Serious Mental Health Issues' & 'Deserved' Fraud Charges — Before She Began Defending Them!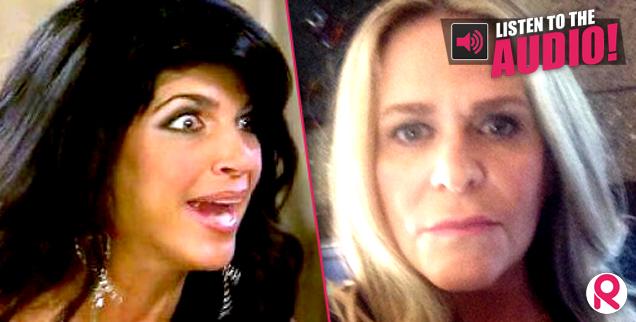 Words spoken are rarely forgotten and in the case of the perpetually troubled Giudices, they often come back to hurt them!
Now, it's emerged the woman who has been at the side of "Real Fraudwife" Teresa Giudice for the months prior to her guilty please on felony tax fraud and evasion charges once declared there was "something wrong" with the Bravolebrity and that she and husband Joe had a "serious mental health issue," RadarOnline.com has learned.
Article continues below advertisement
"Whatever comes their way, they opened the door and in my opinion they deserve it," Feldman told radio host Amy Beth Harkawy.
She added how the couple -- Teresa faces 27 months of jail, Joe 46 months -- made of "mockery" of their $10 million bankruptcy on "national television" by flaunting their lavish spending habits.
Declaring that Teresa would be a "disastrous client," Feldman also said that her felony indictments were inevitable.
Article continues below advertisement
She said, "They are continuing to make light out of it instead of dumbing down and shutting up."
Feldman surmised that both Teresa and Joe, 43, were dealing with "severe issues here" which, she said, included "tremendous denial" and a "serious mental health issue with both of them."
The publicist, who has since gone on to direct the pair's appearances and interviews, said she wanted to get a "psychological evaluation" for Teresa, if she were to be hired.
"There is something wrong with her and she needs to go into some sort of treatment," Feldman said.
"I am not saying substance abuse treatment because. That is not her issue. But there is something wrong with her thinking and until you correct her thinking you cannot really work with it."
Do you think Wendy was right about Teresa? Tell us in comments.