Exclusive
Too Big For Her Hotpants? Taylor Swift Blew Off Nashville's Little People When She Hit It Big, Claims DJ In Scathing New Tell-All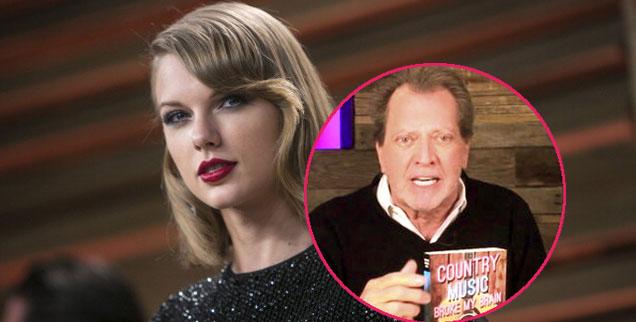 Taylor Swift's aw-shucks country cutie personality is all an act, according to a renowned Nashville radio personality who watched her rise to fame. Gerry House takes Swift to task for her seemingly arrogant attitude in his new no-holds-barred tell-all Country Music Broke My Brain, and only RadarOnline.com has all the details. Will Swift be writing a song about him next?!
House met Swift when she was only 15 and making her first foray into Nashville at a records industry event. "Blonde, elegant, and amazingly mature," Swift quickly caused a stir. "I did know I was truly impressed with her," House writes. "As we chatted for some time before the ceremony began, we discussed her writing and her singing and her dreams. I remember watching her walk away, thinking she was probably going to get everything she wanted."
Article continues below advertisement
And she did. But Swift managed to stay grounded -- at least at first, House reveals.
"Taylor happened to be a guest on my radio show …" he recalls. "Taylor waltzed into the studio in a gossamer summer dress, carrying a big guitar and an even bigger smile. I interviewed her not really knowing much about her … she sang, she was funny, she laughed. She threw her head back and just let loose. Everyone in the room loved her, most of all me."
As House started to give her first songs airplay, he says she'd call "every now and then" to thank him for helping her get her start.
But just a few years later, "Taylor started to orbit further out from us …" House writes, insisting, "I couldn't have been happier. … I had no fear for Taylor. If ever there was somebody with her feet so firmly planted in reality, it was her."
She had even sent him an autographed painting with the phrase "Because you believed in me."
Article continues below advertisement
Not long after, however, he says he saw another side of her -- and it was not pretty.
"Halfway through the night" at the BMI songwriters' banquet, House claims, he went over to visit Swift.
"It could have been bad timing," he admits. "…But I did not get the reception I thought I would. It was not a massive warm-loving hug that was my usual greeting. Not even a quick hug. Not even a gentle welcome touch on the arm. … Ms. TS gave a short sideways glance and a noncommittal 'Hey.'"
Swift and her dad "just acted like they didn't know me," House remembers. "After a long and embarrassing few minutes, I slowly did the walk of shame back to my seat."
Swift "was the last person I ever expected to be brushed off by," he says. "Again, to be fair, I might have wandered in at the wrong time … Usually though, making the effort to tell someone to 'hold on 'til this is over' is a fairly easy thing to do."
He writes, "I was a little bummed … It was surprising and unsettling, to say the least."
And after that, he says, he gave Swift's painting away.
What do you think of Taylor? Let us know in the comments!