Exclusive
Shaquille O'Neal's Ex-Lover Reveals His Scary Gun Obsession In Shocking Court Deposition — Claims He Once Boasted 'I Am The Law'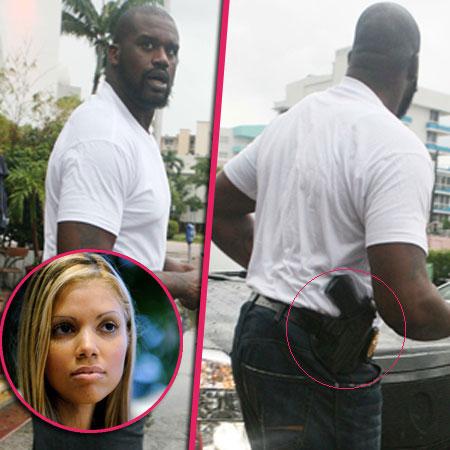 Standing tall at 7'1" and weighing 325 pounds, Shaquille O'Neal is an intimidating physical specimen. But according to his ex, he's hiding a terrifying and potentially dangerous secret. According to new court documents, his former fling Vanessa Lopez claims he has a scary gun obsession -- and believes he's above the law!
Lopez made the revelation in a deposition last year for her harassment lawsuit against O'Neal.
Article continues below advertisement
"Every time I was with him, he would take out -- he always carried, like, a Glock, a gun," Lopez revealed in documents obtained exclusively by RadarOnline.com.
Hollywood Divorce Lawyers Tell All: Prostitutes, Cross Dressing, Drugs & More Shocking Split Secrets
Before having sex, "He would put it on the floor," she said. "He always had a gun."
Asked why he needed one by an attorney, she said, "Because he's the law. That's what he would say, 'I'm the law.'"
Lopez told the deposing attorney that she had several sexual encounters with O'Neal and confirmed that "as a general rule," he carried his Glock.
Lopez's lawsuit was dismissed several months after the deposition, in June 2013.
Do you think O'Neal has the right to bear arms, or is his deadly accessory frightening? Let us know in the comments!