Back The Truck Up, Brandi: Lisa Vanderpump Had No Idea About My Affair With Her Ex-Husband Eddie, Claims Former Mistress Scheana Marie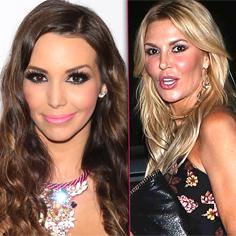 Article continues below advertisement
"I don't float information to my boss, like, 'Five years ago, I slept with this guy.'
"After Brandi and I had our run at SUR years ago, Lisa obviously found out about the affair. Since then, Lisa had made sure I am NEVER working Brandi's table. She doesn't want Brandi to feel uncomfortable," Scheana added.
As RadarOnline.com previously reported, Glanville questioned Vanderpump's motives when she accused her of purposely befriending Scheana to start drama!
Faked Scenes, Lies & Payoffs – The Ultimate Guide To Reality TV Shows
"Lisa continually brought Scheana around. It makes me wonder what her motives are," Glanville wrote on Twitter.
Vanderpump recently explained her relationship with Scheana, claiming she had no knowledge of her connection to Glanville – until after their confrontation at SUR.
"Scheana approaches me, from what I recall, saying there had been words between her and Brandi. Nobody at SUR had a clue that there was any connection… So the only plausible thing for me to do was to remove Scheana from the situation as quickly as possible out of consideration for Brandi," Vanderpump wrote in her Bravo blog.
Article continues below advertisement
"If, as Brandi is suggesting, that any of us knew, trust me in that situation, she would have been asked to stay. No I sent her off ASAP and was enlightened later that she had been involved with Eddie Cibrian, while not knowing he was married, and it had resulted in an affair.
"I have no understanding of why after all this time Brandi would think we knew from the beginning. It's ridiculous, and she knows it," Vanderpump concluded.
Does Brandi need to get over Scheana and Eddie's fling? Tell us below!