Exclusive
Michael Lohan's Baby Mama Arrested For DUI, Domestic Battery After Brutal Fight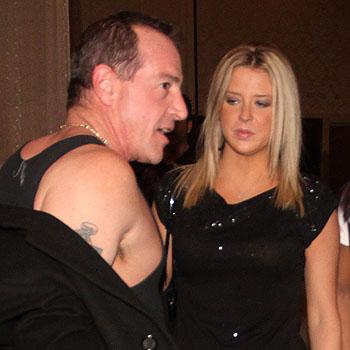 Lindsay Lohan has managed to stay away from the cops lately but her father is not having the same luck because his fiancee and baby mama Kate Major was arrested Thursday night for allegedly driving under the influence and domestic battery and RadarOnline.com has exclusive details about the incident.
Major, the mother of Michael Lohan's sixth child, was arrested by police outside their Florida home after the pair got into a vicious fight and he called 911, reporting that she was driving while intoxicated, a source with knowledge of the situation told Radar.
Article continues below advertisement
Major apparently arrived home in the early evening and passed out in the bedroom while Lohan was taking care of their son. After sleeping for 30 minutes she awoke and the fighting began, the source claimed.
Lohan allegedly "found alcohol in Kate's car," and their argument escalated, with Major scratching his face, the source revealed.
She then allegedly fled the house in Lohan's car, crashing it into a tree in the yard as he called 911 to report her drunk driving.
"When the cops arrived they witnessed her fleeing in the car. They stopped her car and gave her a breathalyzer test, which she failed," the source claimed to Radar.
After a conversation with Lohan regarding the scratches on his face, Major was arrested for DUI and domestic battery.
Major is currently in the Palm Beach County jail and is scheduled to appear in front of a judge Friday morning at 9am.
Stay with Radar for more exclusive details on the Lohan/Major incident.