Exclusive
Kate Major Pleads For 'Help', Claims Baby Daddy Michael Lohan Is 'Threatening To Take Our Son … He Has A Knife'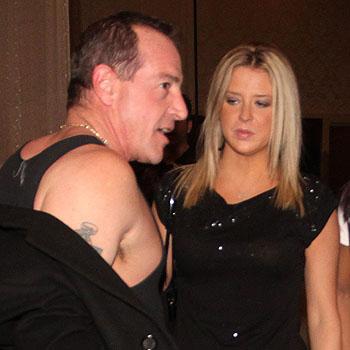 Article continues below advertisement
"My only means of this abusive behavior against @MichaelJLohan threatening me 2 take Landon is the truth He is a sick old man trying to trap," Major tweeted on Monday.
"Threatening to take our son. What judge would rule for him??? Stuck inside a sour with this guy? He has a knife," she then wrote, followed up with the simple message: "Help."
And while it seems illogical for Major to be tweeting her fears instead of calling 911, it's because the new mother says she only has her iPad and no cell phone.
Major claims in her Twitter messages that Lohan was "banging and stalking thru window and screaming," and was "trying-to break thru bedroom."
Major also claims Lohan was angry she was making their domestic issues public on Twitter, threatening to put her in jail.
"He says u should've never posted this on twitter now I'm putting u in jail," she tweeted.
"Sick sick man — he should know jail — I've begged him to stay away."
Read all of Major's tweets below:
RadarOnline.com reached out to Major for comment who would only say, "They're here," when asked if police were needed.
Lohan could not be reached for comment.
Stay with RadarOnline.com as the story develops…