Radar Takes Center Stage At 'RHOBH' Reunion After Lisa Vanderpump Lashes Out At Brandi Glanville Over Bankruptcy Controversy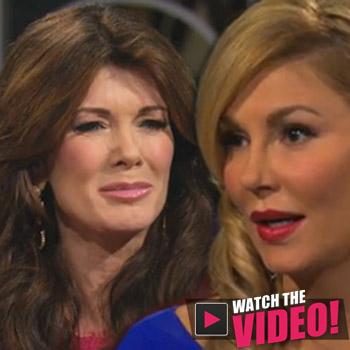 During the filming of the Real Housewives of Beverly Hills reunion, Lisa Vanderpump lashed out at her one-time friend Brandi Glanville over claims that the restaurant owner and her husband Ken Todd were once bankrupt and lived in Calabasas – a story which RadarOnline.com broke.
"Today on RadarOnline.com, you said that I use to live deep in the Valley and I filed for bankruptcy," Vanderpump said during filming, once again denying Glanville's claims.
Article continues below advertisement
Despite multiple denials, Glanville stood by the claims she made on her podcast.
"I was told you use to live in Calabasas, and I looked it up. I paid $9.99, and you did," she fired back at the British beauty.
"We've had many properties here that we've bought and sold," Vanderpump said correcting her. "I didn't live in Calabasas."
Refusing to back down, Glanville wouldn't admit she made a mistake and turned the tables on Vanderpump.
Article continues below advertisement
"Here's what bad about it. When she use to have to come to my house in the Valley, you use to say you need a passport to come over," Glanville said.
Vanderpump told her it was a joke, once again reiterating that she NEVER lived in the Valley.
"Just because you say it, doesn't mean it's true," she quipped. "If I had lived there, I'd say that I lived in Calabasas because I've lived in some far bigger sh-t holes than Calabasas."
As we previously reported, RadarOnline.com broke the story: The ex-wife of Eddie Cibrian alleged the British beauty wanted to "project this perfect persona like there's nothing wrong in the world" — when in reality, she had filed for bankruptcy. Glanville changed her story several times after her accusations earned her the wrath of Vanderpump – and even attempted to blame Richards as the source of allegations.
Watch Vanderpump and Glanville face off during the RHOBH reunion: