Exclusive
Zip It Brandi! Kyle Richards Warns Glanville - Don't Bring Me Into Your Drama With Lisa Vanderpump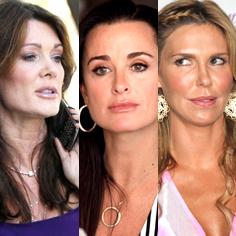 Article continues below advertisement
Glanville ignited the controversy when she alleged that Lisa Vanderpump and husband Ken Todd had lived in Calabasas, Calif., and were filing for bankruptcy. When she was slammed for the claim she revealed that she only knew those details because Richards told her.
"Kyle made the mistake of trusting Brandi with information in the past, and now, that has bitten her in the ass. Brandi point blank asked if there were any skeletons in Lisa's closet....Kyle absolutely wasn't the one to tell Brandi about these ridiculous rumors about financial problems with Lisa and Ken," a source told RadarOnline.com.
Glanville changed her story after her accusations earned her the wrath of Vanderpump.
"The one thing I do want to clear up is that I don't know if Lisa and Ken lived in Calabasas and filed for bankruptcy," she admitted.
"Kyle Richards told me, I looked it up and on this site where you pay $9.99 it said yes, they lived off Mulholland drive in Calabasas."
Glanville continued to backtrack and tried to clarify her confusion about Vanderpump's past, throwing her co-star pretty far under the bus.
Article continues below advertisement
"How do I know if they filed for bankruptcy? Kyle Richards said Ken and Lisa were going to file for bankruptcy and lived in Calabasas. It's something I repeated, but if they say it's not true, it's probably not true. I don't know it for a fact. It's something Kyle told me and I repeated it.
The source told RadarOnline.com Glanville's excuse doesn't ring true.
"Look at what Brandi did, she went on a website to look up addresses that Lisa previously lived at. Now, she is trying to blame Kyle...another reason why she is doing it is because she recognizes that Lisa could indeed sue her. You can't just go around making up ridiculous allegations about someone's finances, especially when dealing with a very successful businesswoman."
On Twitter, Todd slammed Glanville for the comments she made during her PodcastOne show.
"I have worked very hard to establish my reputation as a businessman and your lies threaten my name and character. I have never filed for bankruptcy in my life," Todd wrote on Twitter.
Meanwhile, the source told RadarOnline.com there is more bad blood brewing in 90210.
Lisa is now "freezing Kyle out....She doesn't know who she can trust anymore. Kyle is truly sad that Lisa believes Brandi," the insider added.