'Lindsay Was A Train Wreck!' Inside Her Disastrous '2 Broke Girls' Taping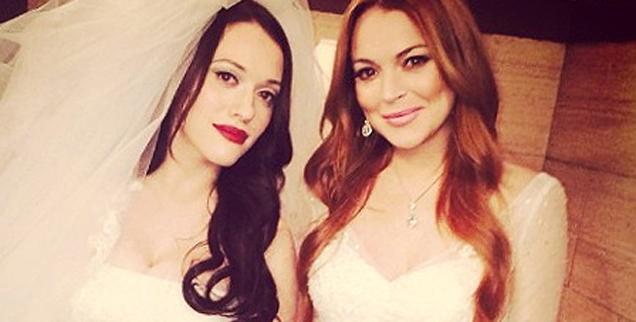 Call it 2 Broke Girls… and one bad actress? Lindsay Lohan"was a train wreck" during her recent taping of the CBS sitcom, according to one audience member who says, "She's lucky to be working as an actress!"
The editor of the blog Crazy Days and Nights scored a seat at the taping Tuesday and regaled readers with a lengthy post on Wednesday -- and his recollections are brutal.
When Lohan first appeared, according to the report, her lips were "so plumped out she couldn't really get them open because of her Botox, which also caused her to have trouble pronouncing certain words. … It sounded like someone who had injected Novocaine an hour earlier."
Article continues below advertisement
"Of course, she wont' be able to pronounce anything if she keeps smoking," the author, @entylawyer writes, "because her voice is rapidly disappearing into some type of screaming smoking raspy hellhole."
As for her performance, Enty says, "There is not a member of the audience who couldn't do a better job than Lindsay Lohan last night."
In her first scene, he claims, she had just five lines and it took "about 45 minutes to shoot because she never could get through without screwing up. She would get one and screw up another. … Lindsay is never going to win an Academy Award and she is lucky to even be working as an actress."
In yet another scene, where Lohan was wearing a wedding dress, she had six or seven lines, Enty claims, but still took 45 minutes to get it right. In the midst of her struggle, he writes, "A cell phone starts ringing. Loudly. 'I'm sorry, that's mine. Hello, I have to call you back.' Yes, it was Lindsay's phone."
There are countless other examples of screwed up scenes on the CDAN blog, but in short, he writes, "Lindsay was a train wreck."
Article continues below advertisement
"When the final product airs next month," he writes, "people will see the editing and Lindsay's best from those scenes and think to themselves that she isn't that bad. … The 200 people who sat through that taping will know that Lindsay didn't deserve to be on the show. They will know that every single person who had lines on the show was at least ten times better than Lindsay."
"Lindsay looked like someone who took her script with her while she partied for a week straight …" he claims. "That attitude is why she doesn't work. She didn't take it seriously. It was a paycheck. I hope she doesn't get any more."