Keeping Up With Kate Middleton? Kim K. Flaunts Pic From Vogue Shoot In Royal Wedding Dress Designer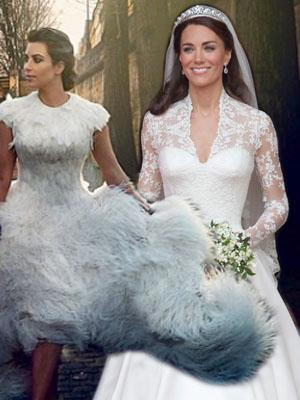 Article continues below advertisement
Showing off an evil side, Kardashian told the magazine that she coveted her mother's clothes when she was a child.
She recalled Kris Jenner "would always wear really tight—she was into Vicky Tiel, Moschino, or Chanel—with huge Moschino heart earrings. She had an amazing body and was always so in shape. One time Kourtney and I sat in my mom's closet—we must've been eight or nine—and we were like, 'If Mom dies, we're going to write down who gets what.' We went through every last piece of her wardrobe. We were so mean then!"
Watch out Kate, hopefully Kim doesn't try to go after any of your clothes!