'Swimmy' Fallon Takes The Plunge In Icy Chicago Waters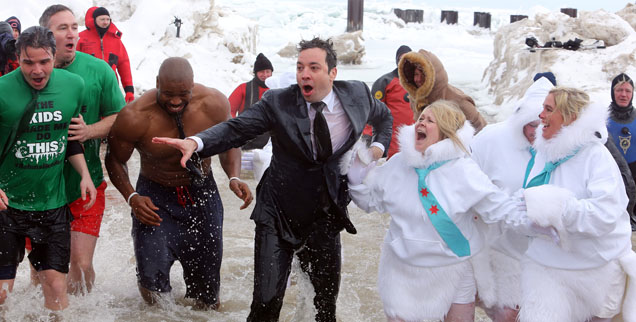 Wearing one of his natty Tonight Show suits and a tie, Jimmy Fallon took the plunge in freezing Lake Michigan waters Sunday morning, and it was all for a great cause.
Fallon had asked Chicago Mayor Rahm Emanuel to guest on his show. The politician agreed but only if Fallon would join him in the annual Polar Plunge, a fundraiser for Special Olympics.
Fallon agreed.
"If you hear a scream like a little girl's, just know that Jimmy Fallon is swimming in Lake Michigan," he said. just before running into the 32 degree surf.
Article continues below advertisement
The look on Fallon's face was "pure shock," Mike Field, who went in at the same time as Emanuel and Fallon, told the Chicago Tribune.
"You could almost see his eyeballs popping out," Field laughed.
Fallon's participation made a huge difference in the event's success. A third more Plungers -- 3,000 in total -- signed up this year as opposed to 2013.
They raised more than $1 million for Special Olympics.