Exclusive
Jennifer Lawrence 'Relieved' She Didn't Win Another Oscar: Pal Says J-Law Was Concerned About Enduring Backlash Anne Hathaway Suffered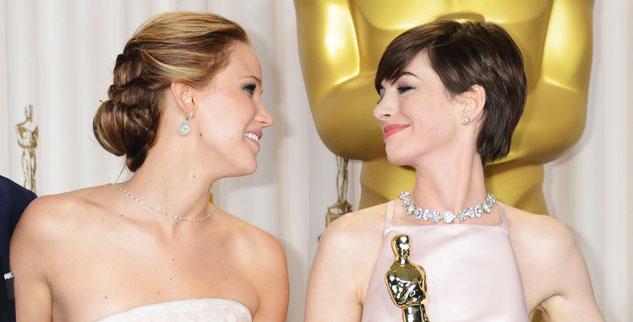 Nobody likes to lose, but 'It Girl' Jennifer Lawrence was relieved she didn't win a second Academy Award on Sunday night for her role in American Hustle, a source exclusively tells RadarOnline.com, because the actress doesn't want to end up with the same backlash pal Anne Hathaway endured as her star skyrocketed!
According to a pal close to the Hunger Games star, after her big win (and tumble!) last year at the Oscars, J-Law became so in demand that before the awards this year she expressed her hope that the loses so she could avoid over-exposure.
Article continues below advertisement
"Jennifer said she was so relieved she didn't win because she didn't want to go through what Anne Hathaway experienced," the pal told RadarOnline.com. "She's very aware that the backlash is already coming anyway."
"And it wasn't in a mean way, she was sort of joking because her and Anne are actually friends," the source added. "But she just knew that if she won the Oscar again it'd be like a target on her back."
MORE ON:
Jennifer Lawrence
Jennifer "certainly wasn't throwing shade, more so acknowledging the fact that it's the new standard of backlash…what Anne went through," the source told RadarOnline.com.
"Jen was just so happy she didn't have to do any of the press. She just wanted to drink and celebrate!"
But the friend tells RadarOnline.com that in his opinion people were "over" Hathaway after she co-hosted the Academy Awards in 2011 and then won the Best Performance by an Actress in a Supporting Role Oscar in 2013 for Les Miserables,.