Exclusive
The Fight To End All Fights: 4-Months Pregnant 'Teen Mom' Star Jenelle Evans & Baby Daddy Caught On Camera In Epic F-Bomb Screaming Match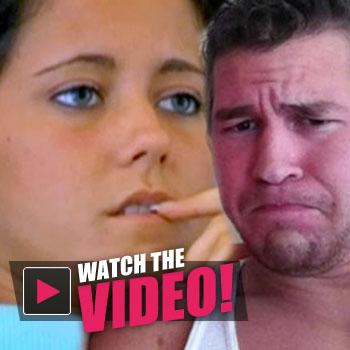 Pregnant Teen Mom star Jenelle Evans and the father of her unborn child, Nathan Griffith, put on a united front, dismissing reports that their relationship is on the rocks.
But RadarOnline.com has exclusively obtained an explosive f-bomb filled video where the parents-to-be scream and yell at each other during a vicious fight to end all fights.
The grainy video -- shot on Evans' cell phone -- was filmed during the last week of January when she was four months pregnant.
Article continues below advertisement
WARNING – EXPLICT LANGUAGE
radar_embed service=5min.com src="http://pshared.5min.com/Scripts/PlayerSeed.js?sid=1126&width=570&height=351&playList=518157065"
NATHAN GRIFFITH: Dude! I have to be in trouble for five years just because you are Jenelle Evans. I get in trouble with the f**king law.
JENELLE EVANS: Oh I'm sorry, you break the law and it's your fault.
NG: Dude check it out. I haven't been in trouble for 5 years. I catch hate on f**king Twitter and f**king Facebook because you're Jenelle Evans I have to put up with that shit.  GET THE F**K OUT!
Article continues below advertisement
JE: Whatever see I can't even talk.
NG: I don't want you to. I don't want to be with you.
JE: Then leave me alone.
NG: GET THE F**K OUT.
JE: Leave me alone.
NG: GET THE F**K OUT.
JE: Get the f**k out of my face.
NG: I don't have to because this is my house, not yours. It's my f**cking house!
JE: Yeah, whatever, even though that's my bed, that's all my sh*t in the kitchen.
NG: TAKE IT! LEAVE!
JE: The only thing you have is two couches dude, that's all you have.
NG: Leave, please. Guess what Jenelle? I've done it since 18 and my life hasn't been handed to me since I been 16 b*tch.
JE: Ok and?
NG: Like I said, you put up with so much sh*t that you don't see the sh*t you do wrong. It pisses me off.
JE: I didn't do anything wrong.
NG: You f**king lie and you f**king be like ok , maybe I did have the story backwards and then you say, 'You're interrupting!' You act like a f**king b**ch to your kid. You don't grow the f**k up dude!
JE: You got mad because I said, 'You're  interrupting me can you please stop?' And you're like 'You're lying, you're lying, you're lying' and you flipped out! You're yelling now for no reason.
NG: I'm yelling now because you're an annoying b***h.
JE: You can yell but I can't? You're allowed to yell but I can't?
NG: You stop.
JE: You can yell but I can't?