Exclusive
My Mom Is To Blame! 'Teen Mom' Jenelle Evans Defends Baby Daddy Yelling At Her Mother, Says He Overheard Her Making Rude Comments About Him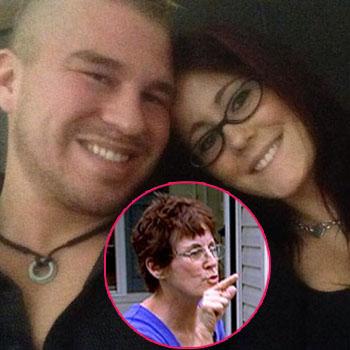 Viewers were shocked when MTV aired a Teen Mom 2 showing Jenelle Evans' baby daddy Nathan Griffith screaming at her mother, Barbara Evans, about getting her daughter hooked on heroin but RadarOnline.com has all the exclusive details about the fight and the reasons why Jenelle is defending her man.
Admitting that "he shouldn't have yelled at her," a source close to the show told RadarOnline.com that there was a back story that caused the ill will Nathan felt towards Babs and that he only raised is voice for a few seconds while she was yelling the entire time.
Article continues below advertisement
"He said before she even was over there he was upset because he overheard a conversation between Jenelle and her mom where Barbara was saying how she could see right through him and that he was a phony and a pretty boy ourtland just trying to use them."
Expecting their first child together, Jenelle was quick to defend her baby daddy, and the source revealed what happened next.
"Jenelle asked her mom to name one more guy that can come even close to comparing with him and she said Gary. Jenelle was shocked! Gary cheated on her and used to hit her, but her mom said 'Well if he didn't do all that he would be better.' Jenelle was pissed!"
Despite claims that her relationship is on the rocks, the source said Jenelle is happy with her baby daddy and hopes to marry him once she is divorced from her husband.
EXCLUSIVE TEXT MESSAGES: Jenelle Evans Admits To Smoking Weed While Pregnant
"Nathan really tries his hardest to be the nicest most genuine and respectful person he can. Jenelle tells him he's too nice all the time and that's why he gets walked on."