Exclusive
Who's That Girl? Farrah Abraham's Shocking First Modeling Shoot Shows How Much She's Changed -- Thanks To Plastic Surgery!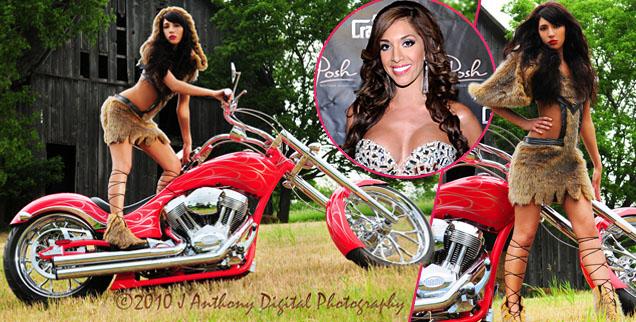 Just over three years ago, Farrah Abraham was a teen mom struggling to find her way in the world -- by posing in fake furs on a motorcycle. Only RadarOnline.com has a look at the Teen Mom turned porn star's shocking first photo shoot that shows just how much she's changed -- thanks to plastic surgery!
Abraham, then 19, is nearly unrecognizable in the shots for J. Anthony Digital Photography's "Mastering The Art of American Motorcycles" 16-month calendar.
Article continues below advertisement
"It was a great project involving 17 models," the photographer, Jaye Ott, tells RadarOnline.com exclusively.
But even then, Abraham made sure she stood out by bringing her own entourage.
"I never imagined that I'd have a model show up to her photo shoot with her own production crew!" he previously told Starcasm.net.
Abraham chose a red "wolf" motorcycle for her photo shoot for Miss May. According to Ott, "The 'Red RIding Hood' theme was discussed, but Farrah didn't really like the traditional 'Red Riding Hood' look, so she decided to design her own outfit with a faux fur wolfskin and called it, 'Red Riding Hood Wolf.'"
"Farrah actually hand drew the design from scratch …" he said. "It was a pleasure to work with her. She was very professional and easy to work with."
Little did he know, in just a few years she'd be a notorious porn star who can boast of having inspired a silicon mold of her private parts! Abraham underwent two breast augmentations, rhinoplasty, chin implants, and lip injections over the past few years.
"I envisioned myself looking one way and I changed it," she told RadarOnline.com.
Can you believe how much Abraham has changed? Do you think she looked better before? Let us know in the comments!