Exclusive
Judgment Day Has Arrived: Charlie Sheen Summons Ex-Wife Denise Richards To Child Support Mediation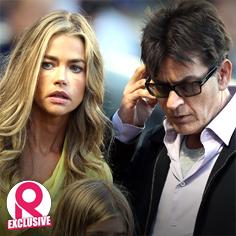 Charlie Sheen is hauling Denise Richards to private mediation next week, to be handled by a retired judge, in an attempt to have his monthly $55,000 child support to his ex-wife drastically reduced, RadarOnline.com has confirmed.
The outspoken actor also wants mother-of-three Richards, 43, evicted from the house where she and her daughters had been living, as we previously revealed.
Sheen's legal team has "formally notified Denise and her lawyers that they will be headed to private mediation next week to try and get the child support reduced," an insider said.
Article continues below advertisement
"The mediation will be handled by a retired judge who has handled various issues for the former couple over the years since their divorce. It looks like this will go down early next week. Wednesday by the latest."
Sheen doesn't feel he should have to continue to front the $55,000-a-month child support because Richards isn't letting him spend anytime with Sam and Lola, even though she has sole physical and legal custody of the girls.
The mercurial actor has been locked in a public battle with the ex-Wild Things star, after alleging Richards wouldn't allow him to spend time with their children during the holidays.
Last year, Sheen hinted on social media that he would no longer pay Richards as much child support.
The Wall Street star lashed out at her on Twitter and intimated Richards would take a financial hit — vis a vis a reduction of the $55,000 a month he pays her in support — for leaving him out of the loop.
MORE ON:
Celebrity Justice
Article continues below advertisement
He hash-tagged a subsequent tweet, "#TooMuchChild$upport."
Another said it would be a huge inconvenience for Richards to be forced to move out of the gated community because their daughters go to school in close proximity to the home.
"Sam and Lola's school is currently less than a five minute drive from the house they are living in now," a source has said.
"It would be about an hour drive each way if Denise moved back to Hidden Hills to their school."
Our sources said: "Charlie could be taking a huge gamble by taking Denise to the mediator. Remember everything Denise has done for Charlie! She became the temporary guardian of his twin sons, Bob & Max, with Brooke Mueller.
"She could have asked for more child support during that time and didn't. There is a chance that the judge could actually increase the child support to Denise because of his lucrative Anger Management deal with FX. This could be a can of worms Charlie might wish he never opened."