Exclusive
Take That Leann! Brandi Glanville Is More Popular, Beats Rimes In Number Of Twitter Followers For First Time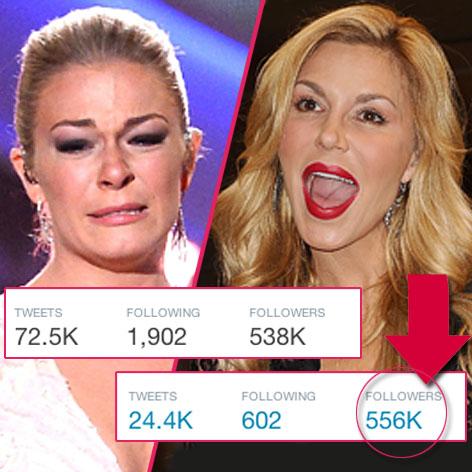 Article continues below advertisement
Rimes, 31, held steady over 500,000 followers for the past few months according to Socialbakers.com, but Glanville's followers surged at the end of February, giving her an edge over her children's step mother.
While Glanville, 41, now has 555,553 followers as of March 21 per Socialbakers.com, Rimes only has 537,942 followers, a different of almost 20,000 fans.
The women have infamously battled with each other over the years, and their fans have even gotten into the arguments, but numbers don't lie.
As Radar previously reported, both women have seen suspicious increases in their Twitter numbers, leading to speculation that they're buying followers but if that's the case then Rimes has some catching up to do.
Do you follow Glanville, Rimes, both or neither? Tell us in comments.