Exclusive
LeAnn Rimes' Twitter Followers Spike By 100K — Buying & Using Robot Followers Suspected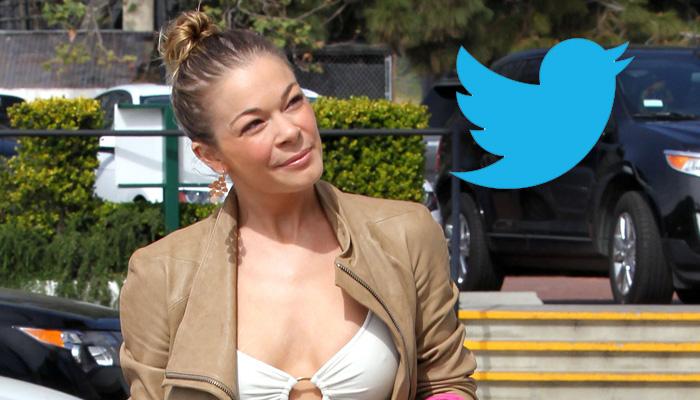 Constantly under scrutiny thanks to her Twitter account, LeAnn Rimes has set herself up again and this time RadarOnline.com has exclusively learned a massive spike in her followers has haters speculating that she's buying followers and using robot followers to increase her numbers.
Not only has LeAnn acquired more than 100,000 new followers in the last month, but it appears most of her numbers were gained all within a one or two day span!
Article continues below advertisement
In screen grabs obtained by Radar, LeAnn had 456,600 followers on April 17 and as of Tuesday, May 14 she registers at 561,793.
A website specializing in social media statistics and metrics, Socialbakers, charts celebrities and it's clear in the graph below that LeAnn's twitter followers spiked dramatically between May 2 and May 3:
Typically Twitter users can gain a large number of followers if they in turn follow a large number back, but it appears LeAnn has only increased the number of people she follows this month by about 50 — nowhere near the 100,000 followers she gained.
Also telling, is that a lot of LeAnn's new followers have the nondescript and generic profile photo of an egg and have no followers themselves, as "Twitter bots" usually don't, a social media expert told Radar.
"Tell tale sign of someone buying followers is a big spike followed by a big unfollowing. #LeannRimes has dropped 10,000 after buying spree!" user @lindami77281989 wrote on Sunday.
User @IWiveClub noticed the spike last week and tweeted, "wauw, six retweets...where are all these Leann Rimes followers fans? Sorry I forgot, most don't exist."
This isn't the first time LeAnn speculation has swirled around LeAnn's Twitter followers.
In April LeAnn saw a 50,000 person increase in her followers in just one day, leading others on Twitter to question how she gained them.
"Leann Rimes gained Thousands x 40 of robot followers Yesterday. They all use same words at same time check it out leannrimes," user @Wonderful_Meee wrote.
Do you think LeAnn is buying Twitter followers or using Twitter bots? Sound off below…