Brandi Glanville Is 'Childish, Pathetic & Needs Rehab,' Blasts 'RHOBH' Co-Star Joyce Giraud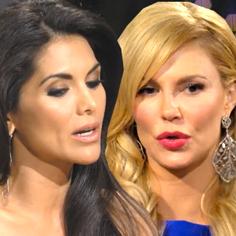 Brandi Glanville and Joyce Giraud are NEVER going to see eye to eye.
After a dramatic season on TheReal Housewives of Beverly Hills, the former Miss Puerto Rico, 38, vented about her outspoken co-star in a scathing new blog.
"It shocks me to see the venom and the desperation of those who will do anything to sensationalize themselves for attention," she wrote on her Bravo blog before calling out 41-year-old Glanville.
Article continues below advertisement
Faked Scenes, Lies & Payoffs – The Ultimate Guide To Reality TV Shows
"She has attacked my integrity, my marriage, my family, and everything about me (even my choice of dresses). It's childish and pathetic. YES, I called her out on needing rehab, and I FIRMLY stand by it. She needs better friends that will tell her when she's taking things too far," Giraud added.
The beauty queen continued to slam Glanville for playing the "I'm a poor single mother card."
Article continues below advertisement
Speaking of Glanville's success as Bravo-lebrity and twice-over New York Times best-selling author, Giraud explained her perspective.
"There are mothers out there who struggle every day. Mothers who aren't as lucky as she is to be able to live a fortunate life in the top percentile of the world. She doesn't have to worry if tomorrow her children will be able to eat, have a good education, or healthcare.
"Perhaps if she wasn't so self-centered and if she devoted even a little bit of her time to charity, she would realize how blessed she is and she would thank God instead of playing the victim," she concluded.