Exclusive
Arnold Schwarzenegger's Daughter Admits In Revealing New Book She Moved Home After Her Parents Split To Support Her Mom: 'It Was A Step Backwards For Me'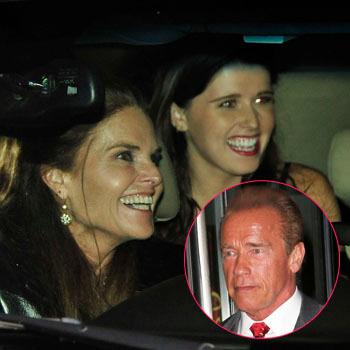 Article continues below advertisement
It was that summer that Katherine graduated with a degree in communications from the Annenberg School at the University of Southern California — and instead of pushing forward with a career and a place of her own, she moved back home to support her mother.
In her new book I Just Graduated…Now What?, Katherine reveals that the decision to move home with her family was a tough one and she feels like she took a step backwards instead of forwards.
"Now, I know I am lucky to come from a family who could support me in my summer of 'pauses' while I found my way. I decided to move out of the apartment I was sharing with my best friend before graduation and move back home. My parents had recently separated and I wanted to move back home with my mom and my siblings," she writes.
"I hadn't planned on moving home after college, but a big part of me loved being around my family, so the idea of moving back home with them didn't sound so bad. Still, although my intentions were good, it felt like a step backwards for me."
Article continues below advertisement
An accomplished author and television journalist already, Katherine expressed she was eager to find her calling and struggled with her decision.
"You spend your whole life taking the proper steps into adulthood, and there I was, a college graduate, living at home with my family," she wrote.
"Most of my friends had their own apartments and were living their own lives, and I was struggling and conflicted with my decision — big time."
Stay with RadarOnline.com for more on Katherine's book, I Just Graduated…Now What?, on sale April 1.