Revealed: The 1993 Custody Ruling Which Awarded Woody Allen's Kids To Mia Farrow, Declaring His 'Behavior Toward Dylan… Grossly Inappropriate'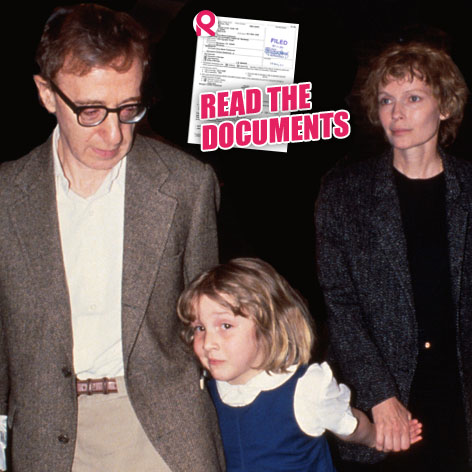 Even though medical professionals at Yale-New Haven Hospital in Connecticut concluded in a report from 1993 that Woody Allen did not sexually abuse his then 7-year-old adopted daughter, Dylan, RadarOnline.com has obtained the custody ruling paperwork from the same year which states Allen actually incriminated himself and portrays a disturbing portrait of the film director.
"The credible testimony of Ms. Farrow, Dr. Coates, Dr. Leventhal and Mr. Allen does, however, prove that Mr. Allen's behavior toward Dylan was grossly inappropriate and that measures must be taken to protect her," the June 7, 1993, custody ruling between Allen and Mia Farrow reads.
Article continues below advertisement
Read The Entire Custody Ruling Here
Per the ruling, the custody of the three children they shared was given to Farrow and while it doesn't conclude whether Allen sexually assaulted Dylan or not — a charge he vehemently denies — the documents do describe him as "self-absorbed, untrustworthy and insensitive."
These documents have never been published in full online before today, Feb. 7.
"Ms. Farrow testified that Mr. Allen was overly attentive and demanding of Dylan's time and attention," the documents read. "He was aggressively affectionate, providing her with little space of her own and no respect for the integrity of her body."
The ruling on custody was handed down by Justice Elliott Wilk, who concluded that the report which exonerated Allen by the Yale-New Haven medical professionals was "sanitized and, therefore, less credible" and also said "the notes of the team members were destroyed prior to the issuance of the report, which, presumably, is an amalgamation of their independent impressions and observations."
It's noted the medical professionals were also unwilling to testify at the custody trial, except a deposition given by Dr. Laventhal.
Article continues below advertisement
And while both Dr. Coates and Dr. Schultz were instrumental in testifying about the visitation rights, contending Allen wasn't a threat, Justice Wilk stated in the custody ruling:
"Both Dr. Coates and Dr. Schultz expressed their opinions that Mr. Allen did not sexually abuse Dylan. Neither Dr. Coates nor Dr. Schultz has expertise in the field of child sexual abuse. I believe that the opinions of Dr. Coates and Dr. Schultz may have been colored by their loyalty to Mr. Allen."
Article continues below advertisement
The he-said-she-said is making headlines — 21 years later — after Dylan published an open letter in the New York Times in which she stated Allen abused her.
But as RadarOnline.com previously reported, 78-year-old Allen has denied the accusations made in the bombshell piece, calling them "untrue and disgraceful" through his rep.
A source said: "The allegations against Allen came from biased and unreliable sources, including Dylan, who this report described as a 'dreamy child who 'had difficulty distinguishing fantasy from reality' and Farrow and her friends and family, who harbored a great deal of animosity towards Allen.
"The doctors concluded that Mia Farrow clearly influenced Dylan's statements.
"Dylan retracted her abuse allegations and told the investigators inconsistent stories over the course of the multi-day examination."
In a comment Wednesday, Dylan insisted her mother Mia "never planted false memories in my brain. My memories are mine. I remember them. She was distraught when I told her.
"When I came forward with my story she was hoping against hope that I had made it up. In one of the most heartbreaking conversations I have ever had, she sat me down and asked me if I was telling the truth. She said that Dad said he didn't do anything. And I said, 'He's lying.'"