Exclusive
The Secret Report From 1993 That EXONERATED Woody Allen: Doctors Told Cops That Dylan Farrow's Sex Abuse Story Was 'Fantasy-Like,' Influenced By Mom Mia — Read It Here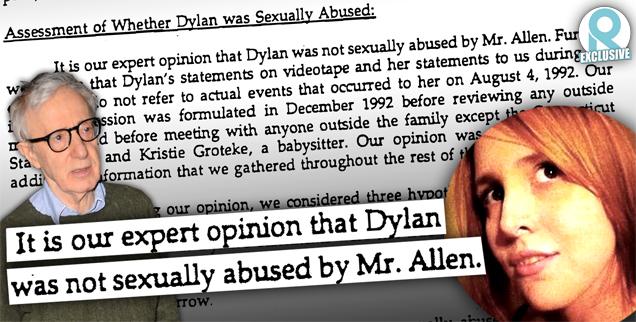 "She told the story in a manner that was overly thoughtful and controlling. There was no spontaneity in her statement and a rehearsed quality was suggested in how she spoke."
That was the bombshell finding medical professionals at Yale-New Haven Hospital in Connecticut delivered in 1993, concluding that iconic movie maker Woody Allen did NOT sexually abuse his adopted daughter Dylan, then seven, RadarOnline.com has exclusively learned.
Article continues below advertisement
Until now, the report — Connecticut law enforcement officials relied on it when deciding not to charge Allen with a crime — has remained a closely-guarded secret, available to those only involved in the police investigation.
EXCLUSIVE: Read The Secret Report
But today, RadarOnline.com can reveal the content of two crucial pages of the document, provided to this website in the wake of Dylan's detailed account of the alleged abuse to the New York Times, during which she claimed she was once sexually assaulted by Allen while sitting on the floor playing with a train set, aged seven.
"It is our expert opinion that Dylan was not sexually abused by Mr. Allen," the hospital's report, dated Mar. 17, 1993, said.
"Further, we believe that statements on videotape and her statements to us during our evaluation do not refer to actual events that occurred to her on August 4, 1992."
According to the hospital, in Sept. 1992, the initial referral was made to it by the Connecticut State police at a meeting involving then-State's Attorney Frank Maco and members of the child sexual abuse team.
Article continues below advertisement
"At that meeting, the history that police had at the time was briefly presented and the videotape (taken by Ms. Farrow) of Dylan telling what had reportedly happened to her was reviewed," the document stated.
The hospital officials said that two major questions that were posed in the referral were: "Is Dylan telling the truth and did we think that she was sexually abused?"
In 16 interviews stretching from Sept. 8, 1992 to Dec. 4, 1992, investigators spoke with all parties involved (Allen, both of her parents, two babysitters and two psychotherapists, per the report) and "interviewed Dylan on nine occasions."
According to the report, "Dylan presented as an intelligent, verbal 7-year-old whose storytelling was quite elaborate and fantasy-like at times and who manifested loose associations in her thinking.
"She appeared confused about what to relate to the interviewers and was very controlling of what she would say," adding that the child was "upset by the loss of her father and Soon-Yi and worried that her father might take her from her mother's care."
Article continues below advertisement
The report — read the excerpts in full here — was referring to Soon-Yi Previn, whose relationship with Allen led to the breakup in 1992 of the film director's 12-year relationship with Mia Farrow, who had adopted Soon-Yi with composer Andre Previn.
Previn was 19 while Allen was 56, at the time. The pair married in 1997.
The report stated that Dylan, now 28, "felt protective of and worried for her mother. Dylan was very much attuned to her mother's pain and her mother reinforced Dylan's losses and her negative view of her father."
The experts boiled the result down to three possible hypotheses: One, that "Dylan's statements were true and that Mr. Allen had sexually abused her;" two, "that Dylan's statements were not true but were made up by an emotionally vulnerable child was caught up in the disturbed family and who was responding to the stresses and the family;" or three, "that Dylan was coached or influenced by her mother, Ms. Farrow."
Article continues below advertisement
The major reasons for their finding were as follows, the report stated:
1. There were important inconsistencies in Dylan statements in the video tape and her statements to us.
2. She appeared to struggle with how to tell about the touching.
3. She told the story in a manner that was overly thoughtful and controlling. There was no spontaneity in her statements, and a rehearsed quality was suggested in how she spoke.
Article continues below advertisement
4. Her descriptions of the details surrounding the alleged events were unusual and inconsistent.
As Radar previously reported, 78-year-old Allen has denied the accusations made in the bombshell piece, calling them "untrue and disgraceful" through his rep.
A source said: "The allegations against Allen came from biased and unreliable sources, including Dylan, who this report described as a 'dreamy child who 'had difficulty distinguishing fantasy from reality' and Farrow and her friends and family, who harbored a great deal of animosity towards Allen.
"The doctors concluded that Mia Farrow clearly influenced Dylan's statements.
"Dylan retracted her abuse allegations and told the investigators inconsistent stories over the course of the multi-day examination."
In a comment Wednesday, Dylan insisted her mother Mia "never planted false memories in my brain. My memories are mine. I remember them. She was distraught when I told her.
"When I came forward with my story she was hoping against hope that I had made it up. In one of the most heartbreaking conversations I have ever had, she sat me down and asked me if I was telling the truth. She said that Dad said he didn't do anything. And I said, 'He's lying.'"