Woman Who Told Mia Farrow Of Woody Allen's Alleged Sexual Abuse Of Dylan: 'He Thinks He's Inscrutable … Knows No Bounds In Pleasing Himself'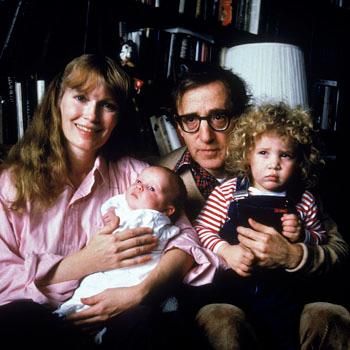 Mia Farrow's long-time friend was the whistleblower over shocking allegations that Woody Allen was sexually abusing then 7-year-old Dylan, and she's speaking out about it saying the producer had an "obsession" with his adopted daughter.
It was Casey Pascal who first alerted Mia that her Oscar-winning partner was there perpetrator of alleged sexual abuse after her babysitter claimed to see Woody's head in Dylan's lap.
Article continues below advertisement
And after Dylan released an open letter through the New York Times earlier this month detailing the alleged abuse — a claim which Woody vehemently denies — Pascal says that Mia is "suffering terribly" and is "horrified" the allegations are making news again.
"Dylan decided she had not been heard and this is her hurt," Pascal told the Mail Online.
"She's an adult and Mia of course supports and loves her. Mia would do anything for the sake of her children."
But Pascal's opinion of what happened behind closed doors hasn't changed and she says of Woody, "He thinks he's inscrutable, he seems to know no bounds in pleasing himself and never seemed to realize the impact he had on this family.
"Mia doesn't feel sorry for herself, she's just a mother trying to protect her children. She's horrified – the whole thing has been such a nightmare and to have it rear up again is very hurtful."
Article continues below advertisement
Pascal, 70, attended British boarding school with Mia and on the afternoon of Aug. 4, 1992, left her three children with Mia's children in the care of three nannies.
"We took Mia's baby son Isaiah out with us and went to the store and while we were gone Alison (a nanny) went looking for John and opened a door to a little den off the kitchen and found Woody with his head in Dylan's lap," Pascal recalled.
Hollywood Divorce Lawyers Tell All: Prostitutes, Cross Dressing, Drugs & More Shocking Split Secrets
"We came back, not knowing anything about this, we noticed Dylan didn't have any underwear on and Mia asked one of the girls to help her get some pants on."
Pascal continued, "Alison came to me and said there was something I should know, she said it was the kind of situation where if she had walked in on grown-ups she would have said 'sorry' - then she realized there was a very small child involved and she was horrified.
Article continues below advertisement
"I had to call Mia and it was so horrific – I set the wheels in motion."
"There was never a question of not believing her," Pascal said of Amanda. "She had worked for me since my children were babies."
Alison later gave testimony in a 1993 court battle, saying Dylan had been "sitting on the couch staring vacantly in the direction of a television set."
"People were concerned about Woody's behavior with Dylan. His intensity with the child…he didn't seem to leave her alone for a second. He was obsessed with the child. Mia had mentioned it to him and he was seeing someone. I saw it from the perspective that the children would be involved in a game and he would come and scoop her up and take her away, it was not anything you would consider normal," she said.
Read The Entire Custody Ruling Here
"Mia always told baby sitters never to leave them alone, the child seemed to have no space for herself, he overpowered her. She would be going off into her mind in a different space, she would tune out. We knew it was too intense for a little girl. I would just take my children home when Woody arrived as there was no more playing with Dylan when he arrived."
And in possibly one her most powerful statements, Pascal said: "I would never have left my children with him."
Article continues below advertisement
As RadarOnline.com previously reported, Woody was exonerated in a way during a 1993 report done by medical professionals at Yale-New Haven Hospital in Connecticut in which they found no evidence that Dylan was sexually abused, and even stated the child's story was "fantasy-like" and probably influenced by Mia.
But a 1993 judge overseeing the couples custody agreement saw things very differently, stating that the report was "sanitized and, therefore, less credible" and also said "the notes of the team members were destroyed prior to the issuance of the report, which, presumably, is an amalgamation of their independent impressions and observations."
Justice Elliott Wilk found Woody's "lack of judgment" to be an issue and said, "His trial strategy has been to separate his children from their brothers and sisters; to turn the children against their mother; to divide adopted children from biological children."