Federal Investigation Into Tiger Owner Who PETA Claims May Have Put Michelle Rodriguez & Gal Pal Cara Delevingne At Risk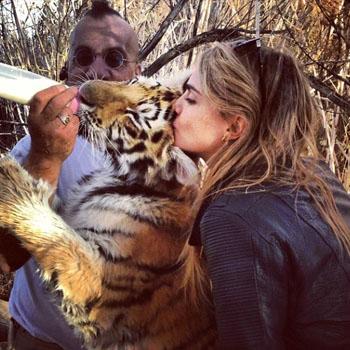 It may have made a cute pic, but the photograph of model Cara Delevingne kissing a tiger has landed the big cat's owner in trouble.
The Brit beauty took an Instagram photo of her smooching the tiger while on a day out at the Big Cat Encounters Ranch in Pahrump, Nevada with the actress Michelle Rodriguez last month.
She wrote: "I miss you puddle warrior from lion wings."
Now animal rights group PETA has sent a formal complaint to the U.S. Department of Agriculture (USDA) asking that criminal charges be brought against the ranch's owner, Karl Mitchell.
Article continues below advertisement
In fact – according to PETA – Mitchell has a history of violating federal animal welfare law, as well as previous criminal convictions.
The group claims that he had his USDA exhibitor's license permanently revoked 13 years ago in 2001.
He received the ban for repeated violations of the federal Animal Welfare Act for allegations that included shocking abuse – for example denying water to five-week-old cubs.
Yet, PETA alleges that he continues to flout the ban.
It also now emerges that Cara could have been putting her model good looks in jeopardy by kissing the juvenile tiger who is called Louise.
The maximum age for tigers to have direct physical contact with the public is three-months-old and the animal is apparently more than twice that age.
PETA Foundation Deputy General Counsel, Delcianna Winders, said: There are laws and regulations to protect animals and prevent the public from being harmed by animals, and Karl Mitchell has violated them.
MORE ON:
Michelle Rodriguez
Article continues below advertisement
"Michelle Rodriguez and others were lucky this time, but a vigorous and long-overdue criminal prosecution by the Department of Justice could help save animals and people from harm."
Cara and Michelle are not the only celebrities who have been up close and personal with Mitchell's tigers.
PETA claims that he had an unlicensed involvement with an Animal Planet shoot and on the Bradley Cooper film Outrun.
In 2013 his involvement with a photo shoot featuring married stars Megan Fox and Brian Austin Green prompted the USDA to refer Mitchell's case for prosecution to the U.S. Attorney's Office.
On the Big Cat Encounters website it says: "His Mitchell's trained lions and tigers have appeared in many movies, television shows and in photo layouts in such prominent magazines as Vogue and Elle."
It also boasts that the ranch is "often used as a location for international magazine and rock video shoots."
PETA is urging the USDA to seek additional criminal charges against Mitchell for allegedly continuing to disregard the law.
He has already been ordered to pay more than $100,000 fines for violating the USDA's cease and desist orders.