'Life Of Pi' Tiger 'Damn Near Drowned' During Filming, Animal Monitor Admits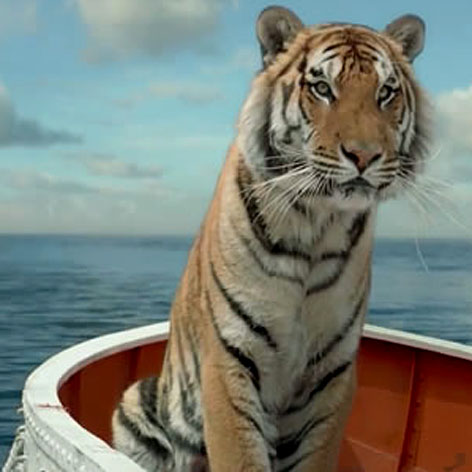 King, the real life tiger that costarred in Life of Pi, almost lost his life during production, according to the person monitoring the animal on set.
"Last week we almost f---ing killed King in the water tank," American Humane Association monitor Gina Johnson wrote on April 7, 2011. "This one take with him just went really bad, and he got lost trying to swim to the side ... damn near drowned."
Johnson's concerns were first reported by The Hollywood Reporter in an exclusive look at the ongoing dangers faced by animals in Hollywood, despite AHA monitors being on most sets.
Article continues below advertisement
In the case of King, a magnificent Bengal tiger, his trainer managed to snag him with a catch rope and drag him to the side of the water tank where he was pulled out.
The report about King was initially disputed by a spokesman for the film's distributer, Fox, who insisted the animal wasn't harmed and did not "nearly drown."
And the head of the AHA insisted that monitor Johnson had "overreacted."
But now Life of Pi's Academy Award-winning director Ang Lee has confirmed that the incident DID happen.
"It was an accident," said Lee. "The crew worked hard to rescue the tiger and then showed him a lot of care, giving him five-star treatment."
What "five star treatment" is for a tiger, he didn't say.
However Life of Pi was released with the standard "No Animals Were Harmed In the Making of This Motion Picture" seal of approval from the AHA.