'Teen Mom' Amber Portwood Breaks Down In Front Of Daughter Leah -- 'I Hate Everything I Did'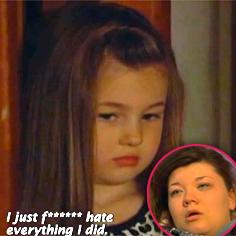 After 17 months behind bars, Amber Portwood has begun the long process of rebuilding her relationship with her five-year-old daughter, Leah.
In a new clip from MTV's upcoming Being Amber special, airing Sunday, Feb. 23, the controversial Teen Mom star breaks down after realizing how much time she missed with her little girl.
"Last night when we were going to sleep, Leah said, 'Are you going to be here when I wake up?'" Portwood says.
Article continues below advertisement
Unable to hold back tears, she runs to her bedroom and closes the door.
"I feel so f— bad. I left her for so long and I just don't f—ing want her to feel that way," the 23-year-old mom says, with tears in her eyes. "I know why she's acting the way she is. She's afraid I'm going to f—ing leave her again.
"I just hate everything I did. It was all the drugs and s—t. It was all I did. All I did was get f—ed up."
As we previously reported, Portwood failed to complete a drug rehab program, which was required from earlier arrests for drug possession and parole violations. She opted for the jail time instead of completing her treatment. She was released in November after serving only 17 months of her five-year sentence.
Portwood will remain under the watchful eye of a parole officer for the next year and will be subject to random drug testing.
As she begins to turn her life around, the reality star hopes to gain custody of her daughter with ex Gary Shirley, who has maintained custody while she served her jail time.