Exclusive
Clash Of The Media Titans! Sumner Redstone Hired Private Eye To Dig Up Dirt On Rupert Murdoch: Source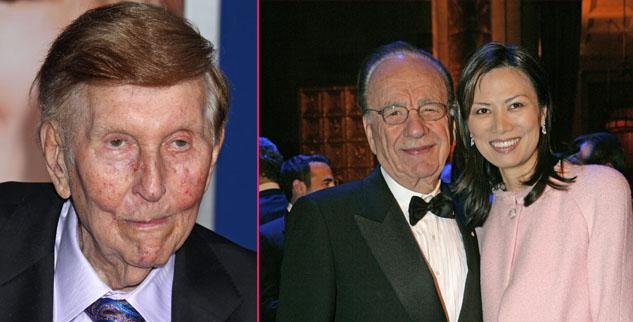 Article continues below advertisement
What's more, Dietl purportedly uncovered allegations that Murdoch's wife, Wendy Deng, was having an affair with MySpace co-founder Chris DeWolfe — a claim the entrepreneur denied privately to the News Corporation boss.
Reports about Dietl's hit on Murdoch and Deng first emerged recently, when the infamous private eye confirmed to Gawker that he had been hired to smear the couple.
Dietl would not disclose who had paid him to do the dirty work, but RadarOnline.com can reveal that it was CBS and Viacom owner Redstone, 90, according to a source who was contacted as part of the probe.
"Redstone hired Dietl because at the time," around 2008, because Murdoch's paper "the New York Post had repeatedly been covering his marriage problems and his alleged affairs," a source with direct knowledge of the transaction told Radar.
According to the source, Redstone paid Dietl a retainer of tens of thousands of dollars.
And apparently, it was worth the money.
Revealed the source, "Dietl claimed he uncovered allegations Deng cheated on him with DeWolfe." (Last November, DeWolfe revealed that he discussed the claims directly with Murdoch, 82. "I didn't think much of it the allegations," he told London's The Telegraph. "He knows it's not true… I worked for him and he came to me and said, 'Ignore this stuff, it happens all the time.'")
Article continues below advertisement
Deng, 45, and Murdoch eventually divorced last year, but at the time, former British Prime Minister Tony Blair was cited as her alleged love interest, not DeWolfe.
The news that Redstone was behind the Deng smear campaign may not come as a surprise to industry insiders, since the two have sparred in the press for years.
In a 2010 comment that now seems foreboding, for example, Redstone warned, "You have to be careful with any newspaper that Murdoch runs. He enjoyed gossip, but not about himself."
When reached for comment by Radar, Dietl would not confirm or deny whether he had been hired by Redstone, insisting, "My business is confidential. Everything I do is confidential."
A source close to Redstone last night denied he had hired Dietl to investigate Murdoch.