Former Editor Of News Of The World Arrested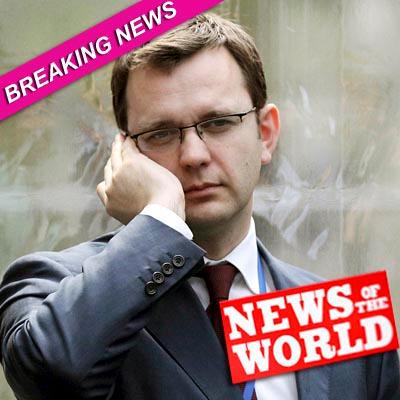 By Neil Woulfe - RadarOnline.com News Director
One day after the News of the World -- Europe's most popular tabloid -- announced it was shutting down its weekly newspaper after 168-years amid a phone hacking scandal, one of its former editors has been arrested for his alleged role in it.
Andy Coulson, 43, knew of the arrest warrant and surrendered to authorities Friday morning at a south London police station; he was booked and remains in custody.
Article continues below advertisement
Authorities want to know if Coulson was aware phone hacking was taking place at the Rupert Murdoch owned tabloid and if he ever personally authorized journalists hacking into the voicemails of thousands of people, including celebrities, a murdered child and the relatives of slain British soldiers.
The investigation is also trying to determine if a handful of police officers were illegally paid for tips by the newspaper during Coulson's editorship which ran from 2003 until his resignation in 2007.
Coulson is likely to be released on bail until a court hearing at a later date.
The arrest is especially embarrassing to the British Prime Minister who appointed Coulson Downing Street director of communications after last year's general election.
Coulson was forced to resign in January over continuing allegations of phone hacking and the Prime Minister has been widely criticized for the decision to hire him in the first place.
Article continues below advertisement
At a news conference Friday morning, the Prime Minister said: "I decided to give him a second chance – and no one has ever raised serious concerns about how he did his job for me. But the second chance didn't work out and he had to resign all over again."
"The decision to hire him was mine – and mine alone – and I take full responsibility for it."
Coulson has previously denied any involvement in the phone hacking scandal and had also denied knowing the paper paid corrupt police officers for tip-offs, but News International has reportedly uncovered e-mails showing payments were made while he was editor of the News of the World.
Five others have been arrested in connection with the scandal.
The News of the World will publish its last edition on Sunday.
The newspaper was first published on October 1, 1843.
CNN's Piers Morgan was a former editor of News of the World. In 1994, at the age of just 28, he was appointed editor of the tabloid by Murdoch himself. Morgan left two years later to join The Daily Mirror.
RELATED STORIES:
News Of the World Closes After 168 Years Amid Hacking Scandal