Casey Anthony Won't Go Free On Wednesday Now; Release Pushed Back Until Sunday, July 17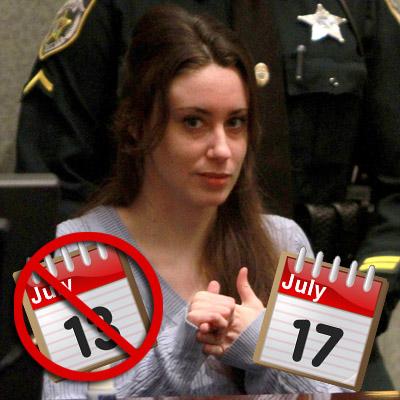 by RadarOnline.com Staff
Casey Anthony will have to wait an extra four days for her freedom.
The Orange County Corrections Department has announced that America's most notorious mom will be released from custody on Sunday, July 17 instead of Wednesday, July 13.
Judge Belvin Perry sentence Anthony Thursday to the maximum of four years in prison and $4,000 in fines following her conviction on four misdemeanor counts of providing false information to police.
Article continues below advertisement
Since she received time credit for the near-three years she'd already served, and extra deductions for good behavior while in custody, she gets out early.
Judge Perry originally estimated Anthony could be freed in late July or early August, but Anthony's attorney Jose Baez told ABC News that she would be released on Wednesday, July 13.
But according to an updated statement from the Orange County Corrections Department, Anthony's projected release date was adjusted to Sunday, July 17. It's not clear why the date was changed.
As RadarOnline.com has previously reported, on Tuesday, after deliberating less than eleven hours over the course of 2-days, the 12-person jury found Casey not guilty of first degree murder, manslaughter, and child abuse in connection with the death of 2-year old Caylee, whose body was found in a wooded area in Orlando, Florida in December, 2008. Casey was only found guilty of the four misdemeanor counts of lying to police.