Sochi Shakeup: Matt Lauer's OUT, Meredith Vieira Taking Over For Pink-Eye Infected Bob Costas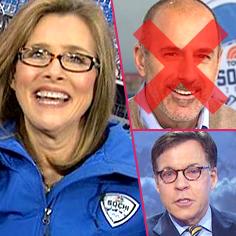 Article continues below advertisement
Reaction to Lauer's three nights hosting the prime time broadcast was harsh, with viewers ranting on Twitter about their displeasure. Among the tweets: @LoRo214: It's only been an hour, and I'm already over Matt Lauer. #bringbobback #pinkeye #Olympics2014; @Krystyn88: For sure I thought that Bob Costas with 2 pink eyes was terrible. And then they brought in Matt Lauer; @ChrisRossSports: Not to be mean, but how funny would it be if Matt Lauer got pink eye?;
Vieira will be the first woman to anchor prime time Olympics and so far the news has been well received.
"Bob's eye issue has improved but he's not quite ready to do the show," NBC Olympics Executive Producer Jim Bell said about Costas' contagious infection. "If your eyes are sensitive to bright lights, a TV studio is not the place to be."
Lauer, who earns $25 million a year and usually only works four days a week, admitted that he was exhausted with the rigorous schedule.
"I'm dragging a little today, I didn't sleep at all since yesterday morning," he said on Friday.
Do you think Meredith will do a better job than Matt? Tell us in comments.