Is Amanda Hiding Something? Raffaele Sollecito Admits He Has 'Questions' About Former Lover Knox's Innocence As He Faces Jail Time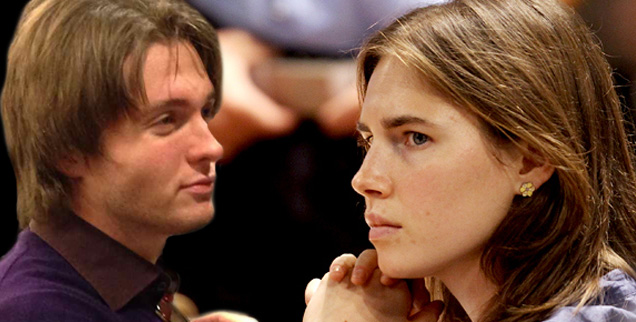 Article continues below advertisement
Sollecito recently admitted on Italian TV that he's still haunted by Knox's behavior in the hours before Kercher's body was found: Specifically, he claimed that she went home to shower after leaving his apartment and was noticeably agitated when she returned hours later with claims her front door had been broken in.
"Certainly I asked her questions," Sollecito said. "Why did you take a shower? Why did she spend so much time there?"
Seven years later, he says, "I don't have answers."
Today show legal analyst Lisa Bloom said in a segment this morning, "I think he's distancing himself from her. He's saying there's some evidence that applies to her that doesn't apply to him.'
Why the change of heart? Last year he told Savannah Guthrie, "The real facts are that we are innocent."
And in his book, Honor Bound, he claimed that he had turned down several opportunities to betray Knox in exchange for his release from prison in the early days of their trial.
But as RadarOnline.com has reported, the two have grown distant due to Knox's relationship with boyfriend James Terrano, which she cited as a reason for turning down Sollecito's desperate marriage proposal last year.
Another woman to whom he proposed the green card scheme, Kelsey Kay, told RadarOnline.com that he had called Knox an "evil b*tch" when she wouldn't help him flee to the U.S. and escape justice in Italy.
In a post on her blog earlier this month, Knox insisted that despite the perception that "Raffaele and his defense attorneys have finally betrayed their resentment and started to put distance between him and me legally and personally ... that is not the case." She shared a snippet of an email from him that read, "I don't want to be punished for nor have to continue to justify those things that regard you and not me.Obviously the evidence demonstrates both of our innocence, but it seems that for the judges and the people this objectivity is of no importance."