Exclusive
Indecent Proposal: Amanda Knox's Ex Raffaele Sollecito Offered Marriage Contract To Idaho Woman In Desperate Bid To Avoid More Jail Time -- Read His SHOCKING Seductive Texts!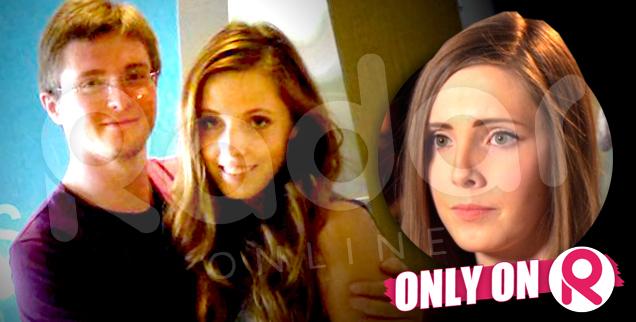 Article continues below advertisement
In a sit-down interview with Radar, Kay revealed that she first connected with Sollecito online after reading his book, Honor Bound, and finding his GoFundMe Page linked to his Facebook profile.
"I had looked him up on the Internet after reading his book and I was interested in his case, so I was looking for updates and I found his verified Facebook off a GoFundMe page he made," Kay tells Radar. "Once I sent him the friend request, he almost immediately accepted it and then he sent me a private message."
After exchanging numbers, Sollecito and Kay sparked an intense flurry of phone calls, text messages and even Skype sessions.
READ Raffaele Sollecito's Desperate Texts To Kelsey Kay
"I remember I told him that I was one of his supporters and I had been praying for him and his innocence and his case," she explains.
In return, she says, Sollecito treated her like a close friend, even though they had never even met.
Article continues below advertisement
"In the beginning, he made me feel very at ease," she explains. "We talked about everything and he was very gentle, very kind. He made me feel very comfortable with him."
But there were a few red flags. On the very first day they spoke, Kay says, Sollecito quickly brought up wanting to meet her -- and even proposed that he marry her to avoid the murder retrial and looming threat of jail time in Italy.
"Raffaele brought up the idea of us meeting the very first day I talked to him," she claims. "He called and he brought up meeting and actually made a joke about marrying a U.S. citizen and being able to stay in the country."
Though Kay was hesitant about the whole scheme, she still agreed to meet him — and Sollecito jumped on a plane from Newark Airport, near where he had been visiting family, to fly out to Coeur D'Alene to meet his potential savior.
Article continues below advertisement
"The first time I met Raffaele, I was really nervous," Kay admits. "Every person who got off the plane, I thought it might be him… The whole time, I was just thinking, 'What am I doing?'"
During his short stay in Coeur D'Alene, Sollecito again brought up the idea of marrying Kay, but never got down on one knee and did a proper proposal.
"In a sense, Raffaele never got down on one knee and proposed that I marry him," she says. "He brought it up on the phone to me and over Skype — and once he got here, it was like we were already engaged. He introduced me to his banker as his fiancée and it just became a natural thing for him to say."
Swept up in the whirlwind of what was happening, Kay went along with the whole idea for a few days despite her reservations.
"When he proposed that I help him, in a way I felt obligated," she explains. "…If it was me, I would expect someone to do the same maybe."
At the same time, she was developing feelings for Sollecito.
"I developed feelings for him pretty quickly," Kay confesses. "It was a spin-off romance. It was quick. He was just very genuine with me. Thoughtful. He was kind, wanted to pay for everything. I fell for him pretty quickly."
Article continues below advertisement
But then he asked her to come up with a fake story of how they met — and this made Kay grow suspicious.
"Raffaele had been in Seattle in March visiting with Amanda," Kay reveals. "Initially, we had decided that it wouldn't be best ... for me to say we had met the way we had met online in July. His wheels started turning and he had asked me to find a time in March ... sometime when he was visiting Amanda in Seattle that maybe I could have been unaccounted for. So I was instructed to tell people who asked when we met that I had met him in March in Seattle at a bar called Montana, and that our romance had started there."
radar_embed service=5min.com src="http://pshared.5min.com/Scripts/PlayerSeed.js?sid=1126&width=570&height=351&playList=518095398&sequential=1&shuffle=0"
And then came the real bombshell. On day two of Sollecito's visit to Coeur D'Alene, Kay says, he presented her with a prenuptial contract that would strictly bind them together upon her signature — and the whole proposition started to make her uncomfortable.
Article continues below advertisement
"The first thing I read in the contract was that I was to stay married to Raffaele for a period of three years," she says. "It was extremely specific. That didn't alert me till a few hours later when I contacted a lawyer myself and I found out that that's the typical amount of time it takes to become a U.S. citizen."
"Also in the contract were clauses about who I could speak to and what I could say to my friends and family," Kay continues. "There were things about wearing sunglasses when I left my apartment in case a media person was waiting outside. There was a part about how if I was to divorce him, I was to pay him $20,000, which immediately made me uncomfortable because in the clause, it stated, 'If I were to embarrass Raffaele by divorcing him.'"
Aware that Kay was getting cold feet, Sollecito promised to take her on a low-key date the next day, she says, so that they could get to know each other better.
Unfortunately, that didn't happen, and she claims Sollecito instead spent the evening hounding her about her past run-ins with the law: Kay claims someone close to her once stole $6,000, and she took the wrap to keep him out of prison.
radar_embed service=5min.com src="http://pshared.5min.com/Scripts/PlayerSeed.js?sid=1126&width=570&height=351&playList=518095397&sequential=1&shuffle=0"
Article continues below advertisement
"We got to the restaurant and ordered and he immediately began asking me questions about my life and my background," she claims. "I felt very uncomfortable."
After that, Kay refused to see Sollecito, so he departedfor Seattle for several days. He then returned to Coeur D'Alene to try one last time to get on good terms with Kay.
Raffaele texted "that he was in love with me, and that he couldn't do this with any other girl," Kay claims. But unfortunately, he wasn't telling Kay the whole truth.
Article continues below advertisement
While photos surfaced in December 2013 of Sollecito on a date in the capital city of Santo Domingo with another woman, he denies that he proposed to her -- or to any women -- to get foreign citizenship.
"I never proposed anything like that," Sollecito tells Radar. "The only person to whom I was interested to was Kelsey and not for citizenship."
"There's nothing that went to real with Kelsey, even if my interest for her was strong and I attempted to date and know her," he adds. "I deny that I have proposed anything like that to Amanda, neither I went to Dominican Republic to look for anything like you described."
For more of Sollecito's disturbing rants about his relationship with Knox, stay tuned to RadarOnline.com!
radar_embed service=5min.com src="http://pshared.5min.com/Scripts/PlayerSeed.js?sid=1126&width=570&height=351&playList=518095399&sequential=1&shuffle=0"