Loud Music Killing: Michael Dunn Compares Himself To A Rape Victim After Killing Teenager In Shock Jailhouse Recordings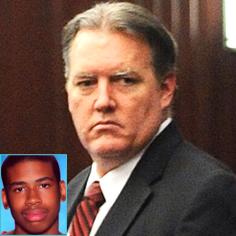 Michael Dunn, who shot and killed a teenager in Florida after an argument over loud music, told his fiancee that he was the victim during a jailhouse telephone call – and RadarOnline.com has all the details.
Prosecutors released recordings of nine jailhouse calls placed by Dunn in the days following the shooting of Jordan Davis.
"I'm the f--king victim here. I was the one who was victimized,' said Dunn from jail in December 2012.
Article continues below advertisement
"I'm the victor but I was the victim too," he said, appearing to chuckle.
Dunn killed the 17-year-old in the parking lot of a Jacksonville, FL gas station on Nov. 23, 2012. He fired 10 shots at the vehicle Davis and three other teens were riding in. Davis was hit three times and died at the scene.
In the other recordings, Dunn, who testified that he fired in self-defense, compared his situation to that of rape victims.
"I was the one that was being preyed upon, and I fought back. It's not quite the same but it made me think of like the old TV shows and movies where like how the police used to think when a chick got raped going, 'Oh, it's her fault because of the way she dressed.'
"I'm like, 'So it's my fault (laughing) because I asked them to turn their music down. I got attacked and I fought back because I didn't want to be a victim and now I'm in trouble. I refused to be a victim and now I'm incarcerated,'" he said.
A jury found Dunn guilty of multiple counts of attempted murder for shooting into a car of teenagers in an argument over loud music, but jurors were unable to reach a verdict on a first-degree murder charge. He faces at least 60 years in prison.
Prosecutors said they're planning to retry Dunn on the first-degree murder charge.