Exclusive
Like The Jails Can't Hold Us? Macklemore's Past Legal Issues Revealed -- PLUS The Big Secret He's Been Hiding From Fans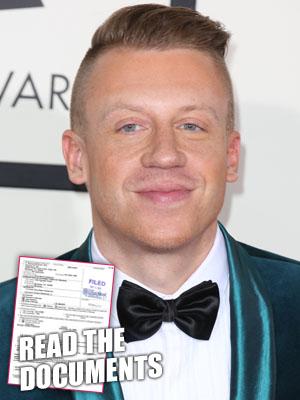 Grammy-winning rapper Macklemore has been open about his past struggles with drug use, using it as a major theme of several songs on his hit album, "The Heist."
But fans may not know that he's dabbled in other risky behavior that landed him in trouble with the law.
RadarOnline.com has exclusively learned that the rapper, born Ben Haggerty, racked up several traffic violations in recent years for speeding and driving without a license. In addition, court records reveal a surprising secret he's been hiding from fans!
Article continues below advertisement
Macklemore was cited in an Oregon court on January 11, 2013 for the violation of a basic speed rule, Class C, which means he was found to be driving 11 to 20 mph above the speed limit.
On July 27 of that year, he was stopped again for a similar incident, when a Washington State Patrol officer spotted his car going 75 in a 60 mph zone just outside of Seattle
Ironically, he was driving a 2008 Cadillac sedan, the type of car he raps about in his song, "White Walls." Unlike the "all-black Cadillac" in that song, however, the car Macklemore was stopped in was blue.
Back in 2008, however, he wasn't rolling in such high style when he was pulled over in his dad Bill's silver Prius. When cops found he was driving on a suspended license, Macklemore was hauled into court on November 19, 2008. He pled not guilty, paid a $250 fine, and went on his way.
But the court records reveal something else that's surprising about the hip hop hit maker. According to each one, Macklemore was born on June 19, 1982, but up until now, his birth year has been publicly reported to be 1983.
Has Macklemore, like many Hollywood actresses, been shaving off a year to seem younger? Or was the 1983 date simply an early error that got repeated? The world may never know, but one thing is for sure: It's a good thing that nowadays, Macklemore can afford a chauffeur.