Sonja Morgan, Ramona Singer, DJ Pauly D & More Celebs React To Same-Sex Marriage Ban Being Overturned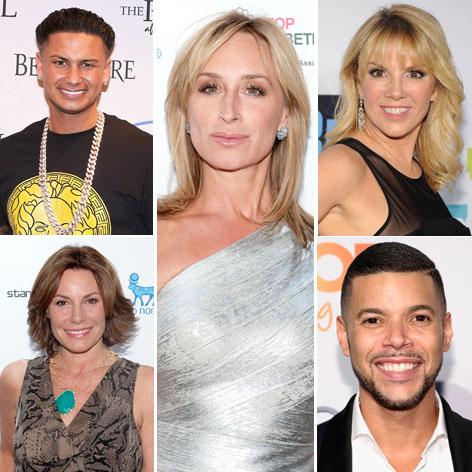 The Supreme Court ruled Wednesday that the Defense of Marriage Act — the law prohibiting the recognition of same-sex marriages be legalized — was unconstitutional.
Now, Hollywood is reacting to Supreme Court's promising decision.
"Everyone deserves to be in love, no matter who you love," Jersey Shore's DJ Pauly D tells RadarOnline.com exclusively. "Yeahhh equality yeahhh!"
The Real Housewives of New York City also have something to say.
Article continues below advertisement
"What an exciting day to be an American," Countess LuAnn de Lesseps tells RadarOnline.com. "Equality is the cornerstone of this great democracy, and this is a victory for every single one of us."
Ramona Singer adds, "I am excited as a nation that we are united with making gay marriage legal, before it was a state by state decision. People should have a choice of whom they want to marry, same sex or opposite sex. Our country was built upon the premise of equality."
Sonja Morgan, who is a big proponent of gay rights, also shares a few words.
"No one should be treated second-tier in America. No one. Love heals. Love does not hurt. Love makes us stronger and that makes our country stronger," she says.
"No one in America should be singled out. It's humiliating. Have we not learned our lessons from the past? We are equal," she continues. "I personally felt the pain in the community for too long."
Article continues below advertisement
And this ruling means that change is still happening.
"It's a momentous and historic day," Wilson Cruz says. "But there's a lot to do. This is not the end of the gay rights movement. We are excited and we going to celebrate today and get to work tomorrow."
Gay couple Dr. Brent Ridge and Josh Kilmer-Purcell are happy about the future.
"We're thrilled that the Supreme Court has struck down DOMA," they say in a statement. "As we prepare for our own wedding tomorrow, we hear the basis for the court's ruling in the unanimous congratulatory wishes of our neighbors in our small, rural, politically conservative village. Our neighbors prove that cultural values are indeed shifting, as they always have, towards the basic intrinsic American values of freedom, inclusion, and equality. "
And the Twitter world is also echoing these cries of joy.
Macklemore says, "HUGE CIVIL RIGHTS VICTORY TODAY! Beautiful moment for America and humanity as a whole. Inspired. #equality"
Eric Stonestreet shares, "Im happy for my gay & lesbian friends. Cheers to gorgeous, wonderful & beautiful weddings, long, happy & fruitful lives and then dying."
Ellen DeGeneres adds, "It's a supremely wonderful day for equality. Prop 8 is over, and so is DOMA. Congratulations everyone. And I mean everyone."
President Obama shares his thoughts.
"Retweet if you believe everyone should be able to marry the person they love. #LoveIsLove," he tweeted.