Kim Kardashian Talks Future With Kanye West: Confirms Paris Wedding This Year, Wants 3 Kids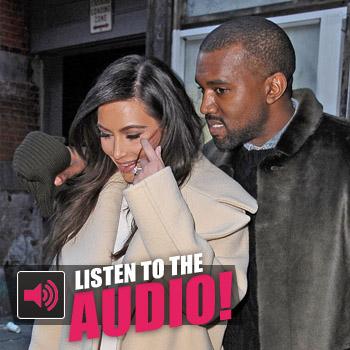 One down, two to go?
Kim Kardashian talked with Ryan Seacrest on Tuesday about her relationship with Kanye West and the couple's plans to expand their family in the future, and RadarOnline.com has the interview.
"I am loving life right now. My daughter is the cutest thing ever. I know every parent says that about their own kid, but…I'm loving being a mom. I never thought I would say that," Kim, 33, told Seacrest when she called into his KIIS FM morning radio show.
Article continues below advertisement
"I went into this so scared, so scared of every last thing pregnancy meant and motherhood and the responsibility. I always wanted kids, but for some reason when I got pregnant I was so scared. Everyone tells you about having a kid and how it will change your life and it's the greatest experience and you'll love it; it's that times 100."
Kim loves daughter North West so much that despite having what she described as a hard pregnancy, the Keeping Up With The Kardashians star said she wants more children.
"After being pregnant I would definitely say I'd never do this again, but I love my daughter so much and I know what it was like to grow up with siblings so I definitely want to have more — but I'm definitely not going the route my mom did. She is crazy!" Kim said.
They Really Did Say It! 50 Outrageous Kardashian Quotes
"I don't think I can do more than three, tops. That would be my absolute tops, tops, tops. I even contemplate, should North just be an only child? But then I remember all the Christmases, and all of the fun experiences I had and I might just have to tough it out."
Article continues below advertisement
But one thing is for sure — Kim's future with Kanye is moving full steam ahead.
As RadarOnline.com reported earlier this year, the couple has been touring Paris for wedding spots and were keen on the Palace of Versailles, but they were turned down and will not be having their wedding at the iconic landmark — but it will be in Paris, Kim confirmed!
"I'll tell you it's in Paris, but I'm not saying when. It's this year," Kim told Seacrest.
"We're having a super, super, just small, intimate…as we're going along we're realizing that we just want it to be more small and intimate than people are imagining and thinking."
Listen to Kim's entire interview below: