America's Sweetheart No Longer! Katherine Heigl Begging Fans To Fund New Flick -- And Not Having Much Luck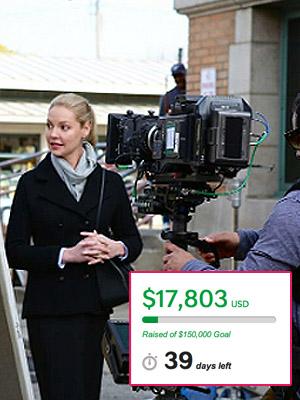 Just a few years ago, Katherine Heigl was one of Hollywood's most in-demand actresses, reportedly demanding as much as $15 million to appear in a film. But those days are long gone. Multiple reports of Heigl's bad attitude rubbed many fans the wrong way, and now, producers are asking those same fans to pay for her next film -- and not having much luck.
Producers for the movie Jenny's Wedding, starring Heigl, set up an indiegogo.com webpage last week asking fans for contributions.
Article continues below advertisement
"We could really use your help!" Heigl says in a video on the page. "... We really cannot do it without you."
"The money we raise will allow us to elevate our post-production to the highest level," the page claims. "We shot a beautiful movie. We'd like to keep post-production to that same standard."
"Don't fail us," they beg, noting that editing, color correction, sound mixing, music, film festival expenses and more still need to be covered.
In exchange, they're offering up a substantial number of perks for donors, but most of them -- especially those involving the former Greys Anatomy star -- have as yet gone unclaimed.
As of this posting, only one person has opted for the 50 available "Official Wedding Album"s signed by Heigl, for $300. She also offered to sign 100 posters with personal messages for lucky donors, but no one has opted to shell out the $400 for that yet. In addition, out of 85 production stills signed by Heigl ($400), none have been claimed, and no one chose to buy one of the 25 available wedding albums with a personal message from he 27 Dresses star.
All told, the site has raised only $17,803 out of the $150,000 goal so far. And at their current rate of raising about $2500 per day, they won't hit their goal by the March 28 cut-off.
Watch the trailer for the movie here:
vimeo 86374422 w=500 h=281
Would you pay to see a movie starring Heigl? Let us know in the comments!