Is Katherine Heigl Hollywood's Most-Hated Actress? New Report Claims 'Desperately Difficult' Star Has Torpedoed Her Own Career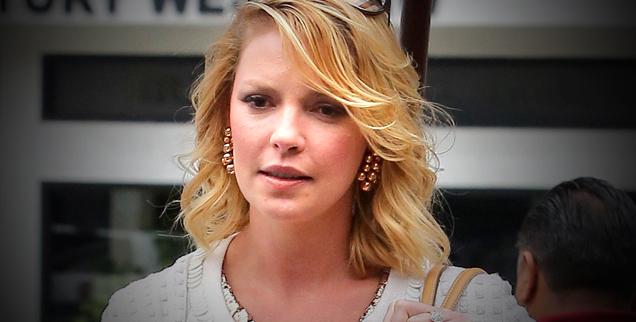 "I've never really been America's sweetheart," Katherine Heigl has confessed. "But for a minute, I think that's what they wanted me to be. And I had 'em for a second thinking maybe I was. And then I opened my mouth and it was clear I wasn't."
Indeed, in a blistering new expose from The Hollywood Reporter, multiple industry insiders reveal how Heigl's bad attitude has allegedly torpedoed her once-hot career.
Article continues below advertisement
Heigl famously blasted her first big movie, Knocked Up, as "sexist" back in 2008, and further angered industry insiders later that year when she announced that was not seeking an Emmy for her role in Grey's Anatomy because the writing wasn't good enough.
Behind the scenes, sources told HR, Heigl was even worse. Although she got up to $12 million for her projects, one source said that Heigl created "desperately difficult situations" at every stage of movie making.
"She can cost you time every single day of shooting," the source revealed. "Wardrobe issues, not getting out of the trailer, questioning the script every single day."
According to the insider, Katherine's mother, Nancy, was even worse.
"I have never experienced anything like Nancy Heigl," the source said. "It's about the mouth. 'F**k you. You are a f**king liar' … Whatever you'd say, you were an idiot. The call would be, 'This is the worst craft service we've ever had! There's nothing to eat! This is the worst wardrobe!' You knew that every day, you were going to get slammed."
Article continues below advertisement
While promoting her film 27 Dresses, for example, "There were movie-star demands: big rooms, the mother there, all the stuff," a source claims. "'We need the presidential suite at The Bristol!' It was just a sense of entitlement. The biggest stars don't do that kind of thing."
In April 2010, Heigl's publicist surprisingly quit, just months after she disappeared from Grey's.
After suffering some recent film flops, however, she announced she'd like to return -- only to be ignored by show creator Shonda Rimes, who said of Heigl's previous outburst, "When people show you who they are, believe them."
So now Heigl's trying to start her own project. NBC announced earlier this week that they are developing a show with her in which she will play the CIA's liaison to the president.
But another source says that gig almost didn't come to fruition.
During pilot season, a top producer says, several parties vetoed her involvement. "On many levels, she would have been perfect for the role," the source told HR. "But all of us said, 'She's not worth it.'" The Hollywood Reporter claims NBC Entertainment Chair Robert Greenblatt pushed for Heigl's deal with his network.
Despite her reputation in certain circles, however, another source insists, "There's a really loyal, huge fan base that's wanting to see her."