Hollywood Backlash Continues, Katherine Heigl Replaced By Blake Lively In Movie Role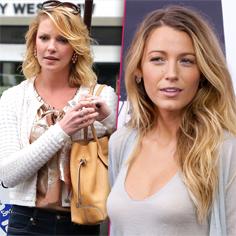 The bad news continues for Katherine Heigl who has felt a severe Hollywood backlash in recent years, with the news that Blake Lively has been given a movie role that she was originally booked for.
Ryan Reynolds' 26-year-old wife has signed up for the romantic drama The Age of Adaline, replacing the reputation challenged Heigl, and she'll be appearing with Ellen Burstyn in the film.
The story is of a "29-year-old title character, who stops aging after recovering from a near-fatal accident. Over the 20th century she embarks on an epic but isolated worldwide journey, keeping her secret, until she meets a man who forever alters her life," according to Deadline.com .
Article continues below advertisement
Heigl, 34, was originally attached to the role which has now been given to the younger Gossip Girl star.
"We searched for the ideal director and stars. We believe that we have found them with Lee Toland Krieger, Blake Lively and Ellen Burstyn, and together they will tell the story of Adaline in a way that audiences won't forget," Lionsgate Motion Picture Group Co-Chairs Rob Friedman and Patrick Wachsberger said.
Heigl and her mother, Nancy Heigl, have come under fire for being notoriously difficult to work with after her Knocked Up rant and Grey's Anatomy fight and her most recent role was in a NyQuil television commercial.