Exclusive
Kanye West Rages To Kim Kardashian: You're Viewed As A 'Materialistic, Judgmental Monster' On TV, Just Be Yourself!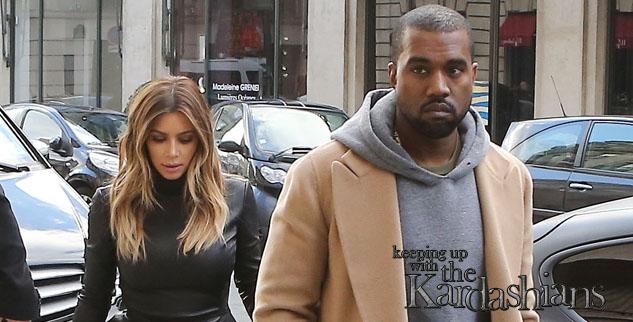 After watching a recent episode of Keeping Up With The Kardashians, Kanye West told fiancée Kim Kardashian to stop acting on the reality show because her portrayal on the E! series isn't who she really is, RadarOnline.com is exclusively reporting.
On Sunday night's episode, momager Kris Jenner fumed to family members that Kim had taken over her bathroom to do her make-up, and had taken over the house. Kim even took the liberty to have repairs made in the house without asking Kris.
Article continues below advertisement
However, Kanye was "quick to point out to Kim that she would never do that in real life! Kim wouldn't just go into her mom's bathroom and make changes at the house. She respects Kris' house, and has gone out of her way to NOT get in the way," a source told Radar.
"Kim told Kanye it was a storyline for that particular episode, to which Kanye replied, 'Stop acting!' He thinks Kim gets a bad reputation because of how she is portrayed on the reality show. Kim is a totally different person off camera, very sweet and thoughtful, and not this materialistic, judgmental monster that viewers saw."
During the episode, Kris went to the garage and told daughter Kendall she was feeling overwhelmed because of Kim's bossy behavior.
"I'm having a little anxiety attack," she told her model daughter, who pointed out, "You agreed to this."
Later, Kim called in a carpenter to fix things at Kris' mansion and the exasperated matriarch confided to the cameras that she was "secretly counting the days" until the celebrity couple moved out.
Article continues below advertisement
Meanwhile, West "allow their daughter, North to appear on the show. He absolutely won't permit it. Kim won't push Kanye, but she would love to show her daughter off to the world," the insider added.