Unhappy Valentines? Jennifer Aniston & Justin Theroux 'Barely Communicating,' As Tension Grows Over Wedding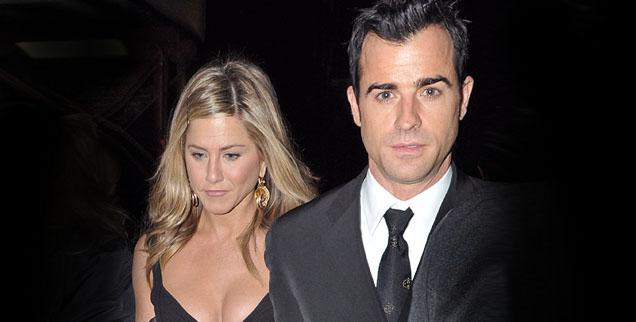 With rampant speculation there's a distance growing between Jennifer Aniston and boyfriend Justin Theroux, a new report says the engaged celebrities are "barely communicating" as Valentine's Day rolls around, and RadarOnline.com has all the details for you.
"They're barely communicating right now and plans haven't advanced at all this year," an insider told Mail Online, noting the 3,000 miles of distance between the two during recent events such as Jen's 45th birthday, and the death of Justin's good friend Philip Seymour Hoffman.
Article continues below advertisement
"Justin is in New York, Jen is in California and they've rarely seen each other since the start of the year," the insider said.
A major sticking point between the celebrity couple, the insider tells the outlet, has been Justin's cold feet about a trip to the altar, as "2014 was meant to be the year in which they finally got married but now the wedding is as remote as prospect as ever.
"Jen is furious at Justin over his passivity on the wedding and there have been more than a few arguments on the subject recently," the source said. "She feels like he's broken his pledge to be more proactive when it comes to wedding planning -- he consistently won't finalize agreement for a date and 18 months after they got engaged, she just feels he's been doing less than ever."