Exclusive
Jennifer Aniston Gets Hair Extensions Because She Thought The 'Short Hair Made Her Look Older'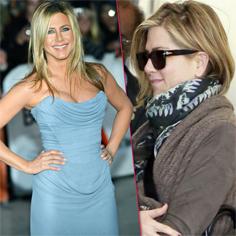 Just weeks after chopping off her luscious locks, Jennifer Aniston stepped out over the weekend sporting long extensions because the former Friends actress hated the short hairdo, RadarOnline.com is exclusively reporting.
As RadarOnline.com has reported, Aniston said the cut was a necessity after her hair was damaged by harsh chemical treatments.
"Jen had been complaining to friends that she didn't like the short hairdo...she thought she wanted a drastic change, but felt it wasn't the right look for her. Instead of just growing her hair out, Jen opted to have hair extensions put back in, which she has utilized in the past," a source told RadarOnline.com.
Article continues below advertisement
"The entire process to put the extensions in took over five hours because of the amount of extensions she needed. If Jen was trying to have healthier hair, well, it's not going to happen with those extensions."
Meanwhile, Aniston's long-time hairstylist and friend, Chris McMillan, revealed the actress was looking for a change.
"It was a spontaneous decision, even though she had kind of been thinking about it for a while," McMillan told Allure.
"It took a few hours to get it right. But I wanted it to look chewed off and lived in."
However, our source tells us, "Jen has never been low maintenance when it comes to her hair....her identity is really wrapped up in her hair.
"She felt having the short hair made her look older, which she is trying to avoid. Having long hair, according to Jen, makes her look younger."