'Hunger Games' In Crisis? Series Finale In Question After Philip Seymour Hoffman's Tragic Death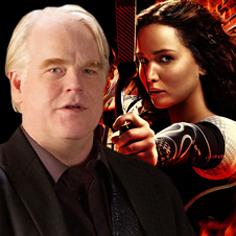 Philip Seymour Hoffman was one of the most prolific actors of our time, so it was hardly surprising that when he passed away suddenly and tragically from a drug overdose this weekend, he was in the midst of yet another film project, the final installments of the Hunger Games series. In fact, RadarOnline.com has learned that Hoffman was just seven days away from wrapping his scenes as Head Gamemaker Plutarch Heavensbee in Mockingjay: Part Two when he died. As millions around the world mourn his loss, fans of the series are wondering, what will happen to the movie?
Article continues below advertisement
According to Entertainment Weekly, Hoffman had finished filming the first Mockingjay and had a few scenes left in the second film, in which he is a critical character.
Studio reps would not confirm how they plan to address his absence, but according to reports neither film's release date will be affected: The first installment of the finale will hit theaters on November 21 of this year; the second, on November 20, 2015. Reportedly, insiders are confident that he won't be replaced, and the ending will not be changed substantially from what was initially planned.
Hollywood & Heroin: 28 Stars Who Used
Still, Hoffman's co-stars were understandably more concerned about mourning their friend than addressing their shooting schedule. Series star Jennifer Lawrence released a joint statement with the book series' author, Suzanne Collins, Mockingjay director Francis Lawrence, and producers Nina Jacobsen and John Kilik.
"Words cannot convey the devastating loss we are all feeling right now," it read. "Philip was a wonderful person and an exceptional talent, and our hearts are breaking. Our deepest thoughts and condolences go out to his family."
Lionsgate, the studio behind the franchise, released their own statement: "Philip Seymour Hoffman was a singular talent and one of the most gifted actors of our generation. We're very fortunate that he graced our 'Hunger Games family.' Losing him in his prime is a tragedy, and we send our deepest condolences to Philip's family."
As RadarOnline.com has reported, Hoffman was found in his West Village apartment on Super Bowl Sunday, surrounded by heroin and drug paraphernalia. According to a source, he had been spending more than $10,000 per month to feed his habit in the period before his death.